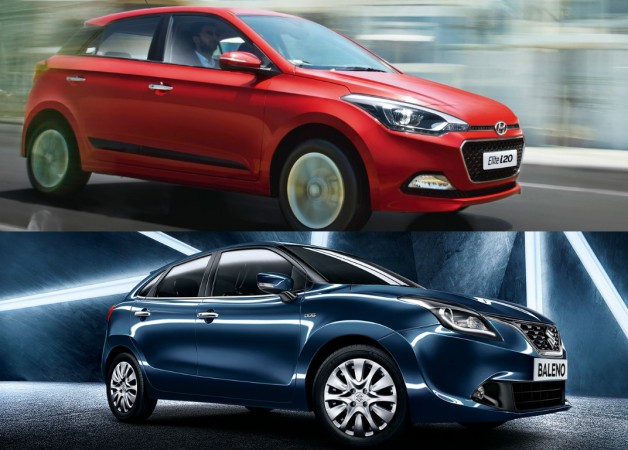 The competition between Maruti Suzuki Baleno and the Hyundai i20 in the premium hatchback segment is getting tougher with every passing month. According to the data released by Society of Indian Automobile Manufacturers (SIAM), Hyundai Elite i20 and i20 Active range leads in October.
Hyundai sold 11,532 units of the Elite i20 and i20 Active combined together in October registering five percent growth over the same month in 2015. Maruti Suzuki Baleno is close on heals with 10,718 unit sales in October. Baleno was launched on 26 October 2015 and it registered 153 percent growth in October 2016 against the sales of October 2015.
In September 2016, Maruti Suzuki Baleno took a narrow lead over the Hyundai i20. Maruti Suzuki sold 10,623 units of the Baleno in September while Hyundai India sold 10,254 units of the i20 range. The sales in the previous months were also neck and neck. In August 2016, Hyundai i20 range was leading with 9,146 unit sales against Maruti Suzuki Baleno's 8,671 units. Baleno was leading in July sales with 9,120 units against Elite i20's 8,205 units. However, the June sales were in favour of Hyundai. Maruti Suzuki had sold only 6,967 units of Baleno in June, while Hyundai had sold 7,250 units of Elite i20. Maruti Suzuki's drop in June sales was due to a production halt for week-long maintenance in the beginning of the month.
Even after a year of launch, Baleno still enjoys great demand. It continues to have a prolonged waiting period of eight months for some of its variants. The Baleno has garnered over 1 lakh bookings in the country so far. The waiting period of the Baleno is expected to go down in 2017 as the new plant in Gujarat will commence its operations early next year. The premium hatchback is sold through Nexa dealerships only. Although Baleno was the second model to join the Nexa line-up after the S-Cross, the hatchback is currently the mainstay of the premium dealerships.