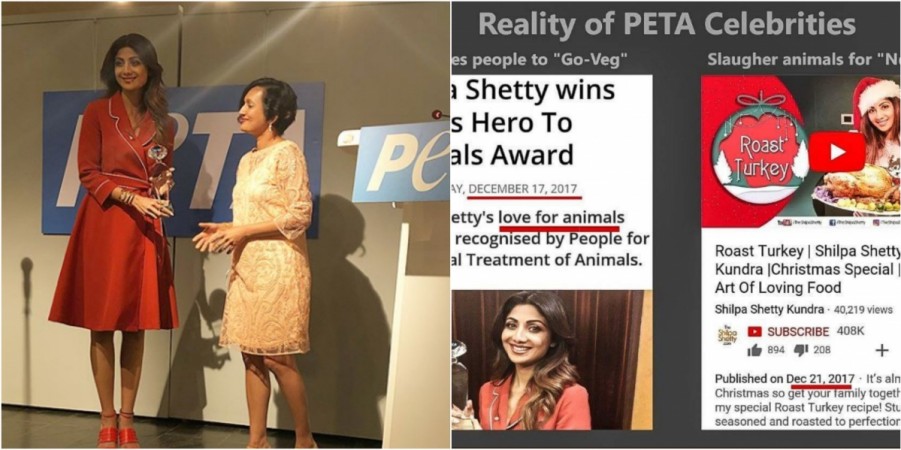 Shilpa Shetty's trouble doesn't seem to get over soon. Looks like Christmas will be a little difficult for the actress.
While the weekend had an FIR lodged against Shilpa Shetty Kundra for using 'bhangi' word that hurt the sentiments of members of a scheduled caste on a TV show; now the actress has landed under scrutiny over sharing the Roast Turkey recipe on her social media handles.
Mrs. Kundra after winning the Hero To Animals Award from PETA on December 17, shared a meat recipe. Is it fair?
Have a heart lady. Just spare the animals with your double standards ...don't worry there are people who really care for them..

— ?? /निti (@niiiiiiiiti) December 24, 2017
Just 5 days ago awarded Hero to Animals award by PETA,decided to show ur love towards animals by cooking turkey. If you love animals start eating them PETA will remember you for this love.P.S. not endorsing vegan but at least stop double standards.

— Ankit mishra (@Ankitmi67140837) December 24, 2017
Shilpa mam you are really pretty nd awesome but posting something like this is really not cool for your vegiterian fans ..... Disappointed .

— Shivaay Pandit (@TheShivaypandit) December 23, 2017
Talking to Midday, PETA said: "PETA's Hero To Animals Award is given for specific actions. Shilpa was recognised because she has been helping animals that suffer in circuses. The video in question is old; it has been reshared. Upon receiving the award, Shilpa took home vegan, plant-based meat. We commend the positive actions that celebrities take for the welfare of animals and their efforts to encourage vegan eating. Over the years, many stars have turned vegetarian or vegan."
Looks like PETA is contradicting their own statement. If this is an old video shared by Shilpa, then why was she given the award in the first place? Shilpa should have made it clear that it's a plant-based meat. The actress has disabled the comments section on her YouTube channel.
Shilpa while receiving the award said: "I have to be honest. I am a non- vegetarian because that's how we have been brought up. But watching some videos [against the cruelty of animals] makes my skin crawl. I choose my food and eat it responsibly.
"I am worried about the non- veg food that I consume due to the adulteration and steroids. I am teaching my son to be a good human being and respect others."
Let's wait what Shilpa has to say on this issue.
Meanwhile, Shilpa apologised for the 'bhangi' comment she made. She tweeted: "Some of my words from an interview in the past have been misinterpreted.It was never said with the intent of hurting anyone's feelings... I apologize if they have. I'm proud to belong to a country that boasts of diverse castes and creeds and I respect each one of them."