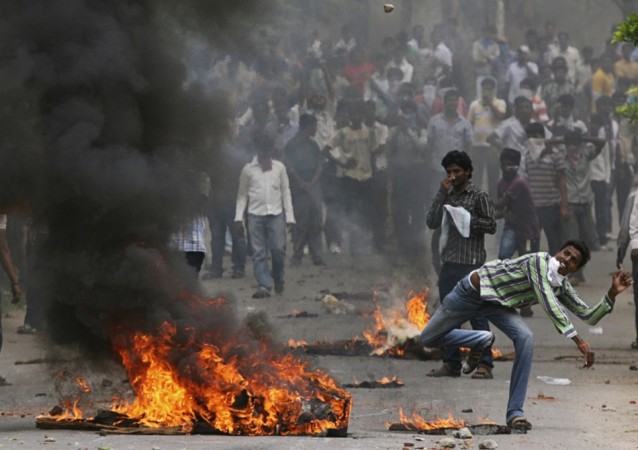 Telangana Chief Minister and Telangana Rashtra Samiti (TRS) president K Chandrasekhar Rao (KCR) has asked the party MPs to disrupt Parliament proceedings in view of the Centre's move to entrust law and order and other key responsibilities of Hyderabad city with Governor ESL Narasimhan.
Hyderabad is presently the joint capital of both Telangana and Andhra Pradesh and Narasimhan is the joint Governor of the two states. While Andhra Pradesh Chief Minister N Chandrababu Naidu favours the Centre's decision, KCR opposes it.
KCR on Sunday, 6 July, held a meeting with the party MPs in Hyderabad and explained to them about the latest circular sent by the Union Home Ministry to Telangana State government. The circular has sought the views of Telangana government over its move and also asked it to make necessary amendments/modifications to the existing Business Transaction Rules of the Government, Deccan Chronicle reported.
TRS MPs- K Kesava Rao, K Kavitha, Seetharam Naik and B Vinod Kumar said that the Centre has no business to send a circular giving extra powers to the Governor and denying the same to the elected State government. To protest the Centre's move, the TRS MPs were told to stall Parliament's session, which will commence on Monday, 7 July.
As per the Centre's circular, powers of the Governor shall be extended to matters such as law and order, internal security and security of vital installations and management and allocation of government buildings in the common capital. The Home Ministry had informed the Telangana government that the Section 8 of AP Reorganisation Act empowers the joint Governor with some special powers, which may require amendment some legal acts by the State government.
Such amendments empower the Governor to look into all law and order issues of Hyderabad and Ranga Reddy district. The Governor will also be empowered to call for a report from the Telangana government on any acts of omission and commission by any offiicial and direct the government to conduct an enquiry and take appropriate action as per the law.
The Telangana CM has also asked the MPs to oppose the bill to replace the central ordinance on inclusion of seven mandals of Telangana in Andhra Pradesh. The seven mandals are in lieu of the seven mandals said to be submerged in the backwaters of the Polavaram multi-purpose irrigation project. The bill will be introduced in the Parliament on Monday by the Union Home Minister Rajnath Singh.