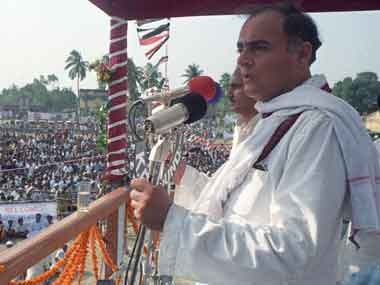 The swanky Rajiv Gandhi International Airport (RGIA) in Hyderabad is likely to be renamed after late NT Rama Rao, the former Chief Minister and founder president of Telugu Desam Party (TDP).
The news came from two Union cabinet ministers - Pusapati Ashok Gajapathi Raju and M Venkaiah Naidu.
The Union Civil Aviation minister and senior TDP leader Raju, who took charge of the department on Friday, stated in Delhi that naming Hyderabad's new airport after NTR has been a long-standing demand of TDP.
According to Raju, at the old airport in Begumpet, the domestic terminal was named after NTR and the international terminal after Rajiv Gandhi. Then the TDP government started work on the new international airport in Shamshabad in 2005, and the party wanted to name it after its founder and the state's hero NTR.
But when the work on the new airport got over, Congress came to power in the state. The airport was then named after Rajiv, against the wishes of the Telugu people, the minister stated.
Now, the airport will be renamed after NTR. Raju said naming the new airport after NTR was the demand of undivided Andhra Pradesh.
TDP president N Chandbabu Naidu has also been pressing to rename the airport after NTR. At the recently held party's annual meeting Mahanadu, the TDP chief requested the Centre that the Hyderabad international airport be named after NTR, the iconic hero of Telugu people.
Union Urban Development and Parliamentary Affairs Minister M Venkaiah Naidu also expressed support to TDP's demand on Thursday. Venkaiah Naidu stressed that hundreds of schemes have already been named after the Nehru-Gandhi family members.
And it makes no harm to remove one and give it to NTR - a person who has done so much for upholding the respect of Telugu-speaking people, Venkaiah Naidu pointed out. But he also added that the Union government will consider TDP's demand later, indirectly hinting that it may take some time.