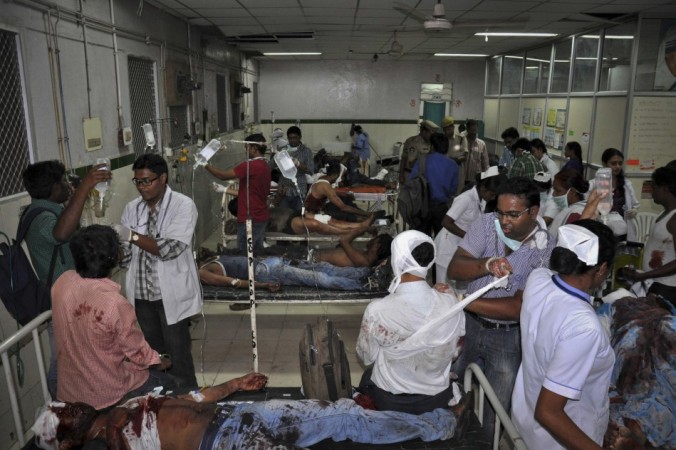 A CCTV footage, which was recovered from the blast site, showed five men moving in bicycles near the blast spot. Police are now investigating on the identity of the men.
"The CCTV footage is being analysed to spot the people who planted the bombs," Hindustan Times quoted a senior investigator, who did not want to be named, as saying.
According to reports, teams of National Investigation Agency (NIA) will soon leave for Bihar, Jharkhand and Uttar Pradesh for three suspects whom the investigators believe to be involved in the serial blasts at Dilsukhnagar on Thursday evening.
The three have been identifies as Tahsin Akhtar alias Monu alias Hasan, and his associates Asadullah Akhtar alias Tabrez and Wakas alias Ahmed.
NIA also suspects Indian Mujahideen (IM) leader Yaseen Bhatkal as a key conspirator of the attack on the basis of the nature of the blast which was carried out using bicycles. Earlier, IM had used bicycles for the Pune Blasts in May 2008 and August 2012. The timing of the blasts hints the involvement of IM.
"There is no conclusive evidence yet, but the use of nitrate-based explosives, shrapnel, bicycles to plant the bombs and the choice of the sites to inflict maximum casualty point to the IM," a senior investigator told Hindustan Times.
The death toll from the twin blasts rose to 16 after two more people succumbed to injuries on Friday. The condition of five people is reported to be extremely critical.
Meanwhile, the investigation team has also claimed that the terrorists behind the attack were targeting Satya Sai Baba temple in Dilsukhnagar but changed the plan due to the presence of police personals following the visit of Hyderabad police commissioner Anurag Sharma to the temple ahead of the blasts.