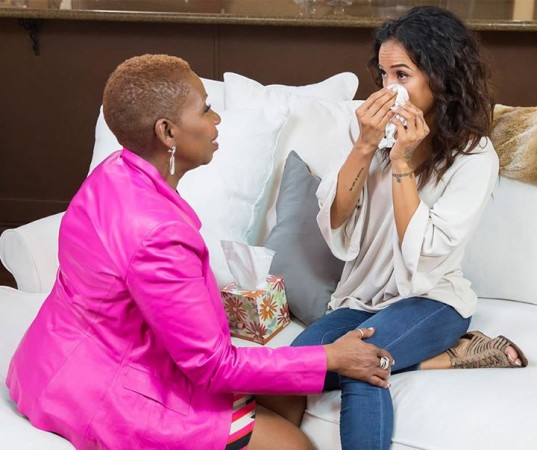 After weeks of silence, Karrueche Tran finally opened up about her failed relationship with Chris Brown to life coach Iyanla Vanzant in an Oprah Winfrey Network exclusive interview on Saturday night.
Tran believed that Brown wasn't all fame; he is a "big kid with a big heart". But soon enough, she learnt that she had been cheated when it was revealed that the singer fathered a nine-month-old baby girl with an aspiring model named Nia.
"There's no making up right now... I feel hurt because the man I loved betrayed me. I will never again let a man disrespect me," she tearfully told Vanzant. "I want my voice to be heard ... I want to clear it up and tell my story and tell my side." Though she recalls that Brown has apologised and dropped of flowers for her, she is fed up with him.
The picture on the other side wasn't rosy either as Brown found the sit-down to be "gut-wrenching" to watch, a source told Hollywood Life. The relationship was on the rocks for quite some time, but Brown had not expected Tran to come out in such a forthcoming way. "He felt bad and had a knot in his stomach the entire time she explained how she was feeling," said the source. "He doesn't want to be a d--- like that. He really wants to be loved and to give love,"
However, Tran said that there will always be a special place in her heart for Brown. "I still love him. I've changed to help him — go to church, pray, yoga, meditate — if he were to change, we would be in a better place, but that's the problem," she said.
Brown still wants to fight for her affection. "He's not mad at anything she said in that interview. He just wants her back," said the insider. But Tran has confirmed that she and Brown are not getting back together anytime soon.
However, Tran made it clear that she is not angry with the baby's mother, as the problem is between both of them. Brown's 9-month-old daughter, Royalty, is being taken care of by her biological mother, Nia Guzman, in Texas, but rumours surfaced recently that they are moving closer to Brown. When asked by paparazzi what she thought of it, Tran simply said, "Good for him."