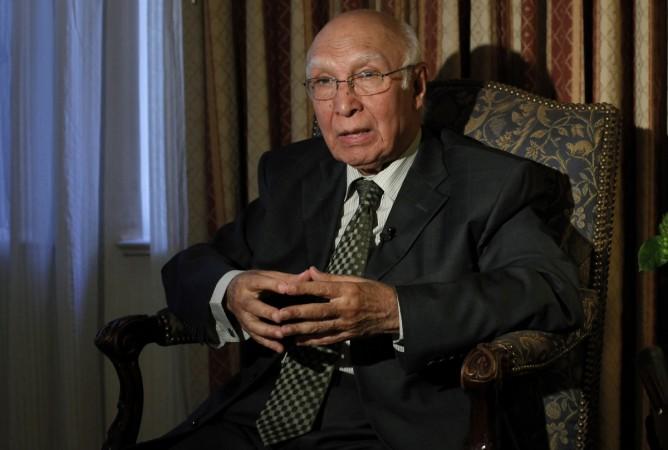 Pakistan National Security Advisor Sartaj Aziz partially accepted that country's High Commissioner Abdul Basit's meeting with Kashmiri separatist leaders was "perhaps not totally right," but he also said they'll continue to hold meetings with Hurriyat leaders.
"The timing of the meeting between Pakistan High Commissioner to India and the Hurriyat leaders was not right and it could have been avoided. The newly-elected leaders of both the countries missed an opportunity of starting a dialogue," The Times of India quoted Aziz as saying.
Pointing out that Indian media have taken his acceptance in a wrong way, he clarified that he never intended to say that the meeting was completely ill-timed.
He said it "probably" occurred at the wrong time as the meeting was between the "two foreign secretaries" to figure out "how to take the dialogue forward" and not to discuss the issue of Kashmir.
After clarifying his take on Pakistan's public acceptance on the meet, he even made it clear on behalf of Pakistan saying they will continue to hold talks with the separatists in Kashmir whenever there's a need.
"We will always meet them each time we are holding talks on the issue of Kashmir. Any solution to Kashmir has to be acceptable to the people of Kashmir," Aziz told Hindustan Times.
He reiterated that it was not Pakistan that cancelled the talks scheduled for 25 August, and pointed out that they are waiting for India to initiate the talks.
The Indian government had called off the talks after Pakistan envoy met Kashmiri separatists ahead of the bilateral meeting and went ahead holding further talks despite India's warning that it would hamper Indo-Pak relations.