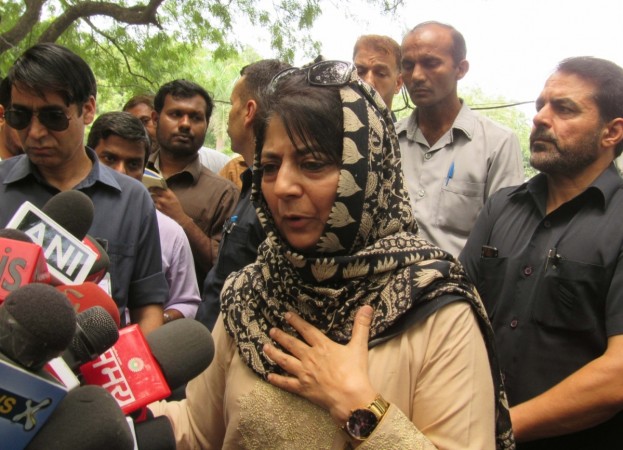 The Hurriyat has rejected Jammu and Kashmir Chief Minister Mehbooba Mufti's invitation to an all-party meeting in Kashmir on Sunday. Ahead of the meeting to be led by Home Minister Rajnath Singh, she wrote to the jailed leaders for taking part in the dialogue. The leaders, however, were not released from jail for the conference.
The letter, which was released to the media, said, "As such, I write to you in my capacity as the President of the J&K Peoples Democratic Party and request you to take the lead and engage with the All Party Delegation of Parliamentarians visiting the state tomorrow. This will be the start of a credible and meaningful political dialogue and resolution process to end the stalemate."
However, Sayeed Ali Shah Geelani of Tehreek-e-Hurriyat, Mirwaiz Umar Farooq of Awami Action Committee and Yasin Malik of Jammu Kashmir Liberation Front, rejected the call for a dialogue, saying that the delegation from the Centre had no clear mandate.
Geelani is under house arrest, Farooq is in the Cheshma Shahi sub-jail and Yasin Malik is in an undisclosed prison.
"These deceitful methods of crisis management through Parliamentary Delegations and Track-II only prolong the sufferings of the people," Geelani tweeted on Sunday. "Nobody is more aware than Mehbooba Ji that the Indian war machine is on a spree to kill, maim and maim and disfigure an entire population," he added.
Mufti had recently said that only 5 percent of Kashmiris are creating conflict in the Valley. Her statement had come in the wake of almost two-month long curfew in the state after the death of a top Hizbul commander. The Valley had erupted in violence and protests that are still continuing. The Centre and the Army were criticised for excessive violence against the residents. More than 70 people have died since July 8, when the protests began.
We intend to talk to individuals and groups who want peace and normalcy in Kashmir Valley," Union Home Minister Rajnath Singh had said.