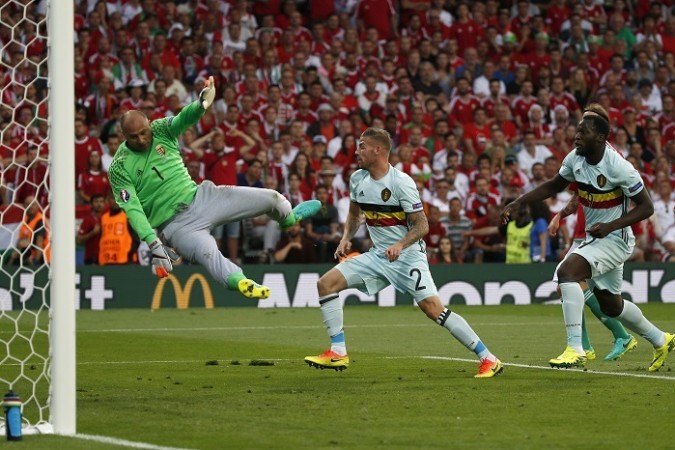 Belgium have booked their Euro 2016 quarterfinals berth, defeating Hungary 4-0 on Sunday. This has to be Belgium's best performance in the competition. Eden Hazard was in a league of his own, assisting a goal for substitute Michy Batshuayi, and scoring one fantastic goal as well. Toby Alderweireld and Yannick Carrasco were the two other goal scorers for Belgium.
Hungary were not too poor as the scoreline suggests, but their game in the final third was lacking, which led to their downfall. However, Belgium, a team packed with world-class stars, have sent some strong warning signs to other teams, with this victory.
Marc Wilmot's team started the game brightly, with Hazard, Kevin de Bruyne and Romelu Lukaku enjoying good possession in the final third, drawing fouls as well. They did not take much time to grab early lead as defender Alderweireld headed home in the 10th minute after a sensational set-piece delivery from De Bruyne. The Red Devils came close to doubling the lead, but goalkeeper Gabor Kiraly blocked De Bruyne's attempt in the 15th minute.
Though Belgium looked better for the first 25 minutes, Hungary were giving it their all, and trying to create pressure when they had possession.
Kiraly was looking in good form against Belgium as he came up with another great save to deny a second goal. Kiraly got his finger tips to De Bruyne's free kick. Hungary, on the other hand, came close, as Gergo Lovrencsics and Balazs Dzsudzsak took shots from long range, which were just wide off the mark.
With the game being end-to-end stuff, Kiraly, who was brilliant throughout the game, made another huge save in the 42nd minute to deny Hazard as well.
Hungary came all guns blazing in the second half, pressurising Belgium's defence, who looked solid. They were enjoying decent possession as well.
Walmot's team were depending on their pacy players like Hazard to take advantage in the counter. The Chelsea star was unstoppable during the night, making those stunning runs, dribbling past Hungary defenders with ease.
With both teams playing an attacking brand of football, Belgium and Hungary goalkeepers were busy. Thibaut Courtois made a big save in the 66th minute as Hungary were inching closer to the goal. In fact, they were looking a stronger team in the second half.
But, two goals in two minutes for Belgium put the game to bed as substitute Batshuayi and skipper Hazard scored in the 78th and 79th minute respectively. Belgium signed off brilliantly with Yannick Carrasco scoring in added time.
With this performance, Belgium will go into the last eight with huge confidence against Wales, which is expected to be cracker of a contest.
Hungary might have been knocked out of the competition, but they should be pleased with their Euro 2016 journey. Their greatest achievement will be topping their group, which included Portugal, Iceland and Austria.