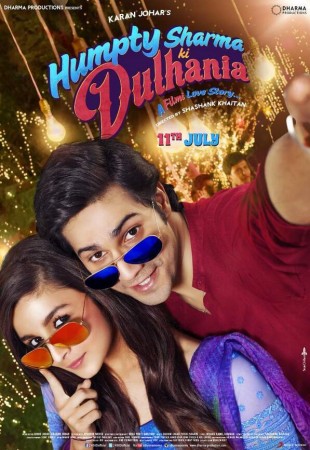 Karan Johar's upcoming production "Humpty Sharma Ki Dulhania" ("HSKD") seems to be funny, entertaining and reminds us of the classic film "Dilwale Dulhania Le Jayenge" ("DDLJ") to an extent.
The makers of "HSKD" unveiled the film's trailer days after the release of its teaser and posters featuring the film's lead Varun Dhawan and Alia Bhatt.
From the first look, Dhawan appears as the usual cool dude but with a desi touch and his leading lady, Alia Bhatt takes on another role of an outgoing and vivacious character. The duo exudes comfortable onscreen chemistry. The characters look staple and settle perfectly as youngsters in their joy ride to eventually fall in love. But as obvious, there is a twist when Bhatt's marriage is fixed to another person, which is played by television actor Siddharth Shukla.
After an upbeat first half of the trailer, Dhawan realises his weakness for Bhatt and we are introduced to the groom Shukla. As the trailer proceeds, we are shown Dhawan acting pally with Shukla and tries to manipulate the groom to give up on the marriage in order to settle with his ladylove Bhatt.
The scene would remind us the classic Aditya Chopra film "DDLJ" where Shah Rukh Khan befriends groom-to-be Parmeet Sethi to gain access to his beloved Kajol. While Sethi's brutish character is no close to Shukla's polished NRI returned hero role, but the premise "HSKD" employs, appears quite familiar to "DDLJ."
Also at the end of the trailer, a clip of "DDLJ"s famous scene showing Kajol begging to unite with her lover is shown where Dhawan appears emotional.
To sum up the trailer of Johar's upcoming film, it looks fun, colourful and energetic with Dhawan and Bhatt complementing each other greatly. The trailer was in news recently after it was reported that Central Board of Film Certification (CBFC) had censored the lead actors' kissing scenes from the promos. But the film's team appears to have fought it out as two lip lock scenes have been retained in the two minute 34 second trailer video of "HSKD."
Directed by Shashank Khaitan, the film will have Bhatt playing the character of an ardent Kareena Kapoor Khan fan in the film. It is well known that Bhatt is self-confessedly a big fan of the "Heroine" actress and had stated the same in an earlier interview.
"Humpty Sharma Ki Dulhania" is Dhawan and Bhatt's second film together after their debut "Student of the Year" (2012). The film has been set for release on 11 July.