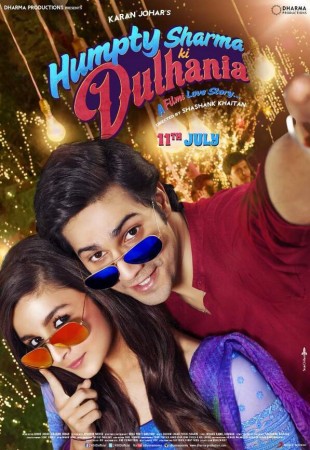 IB Times India Rating: 2.5
Debutant director Shashank Khaitan and Dharma Productions together, with a few honest moments, naach-gaana and fights, churn out a done-to-death love story. No surprises there and to put it mildly, the production house has often preferred this tried-and-tested formula.
Obedient Ambala girl, Kavya Pratap Singh (Alia Bhatt), is set to get hitched to Mr. NRI Angad Bedi (Siddharth Shukla). While she mentally prepares herself to settle down with the man of her father's choice, her friend tells her that she got a ₹2.5 lakh lehenga for her wedding.
Kavya leaves for Delhi, naturally cash-strapped as her father would not pay a bomb for a lehenga, and meets Humpty Sharma (Varun Dhawan), the Delhi dude, who along with his two sidekicks – Shonty (Gaurav Pandey)and Poplu (Sahil Vaid) – trespasses into the principal's (Kavya's uncle) property to get him to pass his History paper. The two bond over several coffees and a cause – to raise money for the dream designer lehenga. Just before interval, they part without promises of holding on to each other.
Cut to post interval scene, like the quintessential Bollywood hero, Humpty arrives in Ambala and straight into the gurudwara where Kavya and her family are offering their prayers. The love-sick hero tries to pull a fast one on Kavya's father, Mr. Singh (Ashutosh Rana), but fails and gets beaten up.
However he doesn't give up, as a result of which wins an opportunity to stay at Kavya's place and prove to her father that Angad isn't a good match. After denying the lover boy all chances of marrying Kavya, Mr.Singh finally says the golden words: "Jaa, Jee le Apni Zindagi". Talk about melodrama exploding through the roof.
Barring the soulful "Main Tenu Samjhawan Ki" by Arijit Singh and Shreya Goshal and the peppy "Saturday Saturday" the music of the film is weak and mostly forgettable. Howevern deft screenplay by the director and crisp dialogues were the high points of the film. Dhawan, who has been in constant danger of overacting in his last two films, shows some restraint and Bhatt does justice to the feisty Kavya.
Rana impresses as the brooding, angry father, while Shukla delivers a near-average performance. Pandey and Vaid as friends were unbelievably funny and got the script running in their own little ways.
While "Humpty Sharma..." is a light-hearted entertainer peppered with honest and controlled performances by the new crop of actors, it misses a spark somewhere. It delivers a handful of genuine laughs but fails to remain consistent in its pace.
What is really disappointing is that Bollywood is still stuck in the bottomless pit of mushy romance. DDLJ 2.0 is how the story line can be best described as, and as the title suggests - it ends on a happy note with the desi Raj (Humpty) taking his Dulhania on a truck.
Apart from a few slip-ups here and there, Humpty doesn't really have a great fall.