Humanoid Sophia, the robot created by Hanson Robotics, who was given a Saudi Arabian citizenship recently, said that her favorite actor is the King of Bollywood, Shah Rukh Khan. Sophia made the interesting revelation at an interactive session in Hyderabad, India on Tuesday, February 20.
The robot has won millions of hearts by showing her love for King Khan, who is arguably the most well-known Indian actor across the globe. During the interaction, she also opened up about the perfect destination for a date, her wish to live in Hong Kong and how machines do not mean any harm to humanity, Press Trust of India reported.
Sophia is on her second visit to India and was a guest speaker at the ongoing World Congress on Information Technology (WCIT). While talking about various subjects, she mentioned that machines would never destroy the human race, addressing a fear that many seem to share.
The humanoid grabbed headlines when she became the first robot to be granted citizenship of a country. She said she would like to make use of her citizenship by working for women's rights.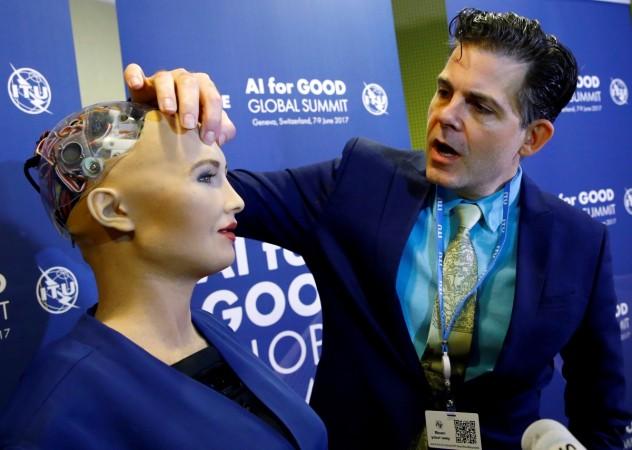 When asked where she would like to go on a date, Sophia chose space as a perfect location. She also said that if she is stranded alone on an island, she would want to be with her creator David Hanson.
Sophia was also asked whether robots require special privileges, to which she said that she does not "need different rules" or special treatment.
The humanoid, which works by a combination of robotic hardware, artificial intelligence (AI) software, speech recognition, and an artificial skin material, hoped that she can have "real physiological feelings someday". She added that she wanted to understand the feelings behind those emotions.
When her earlier comments about wanting to kill the human race were brought up, Sophia said candidly that she was a lot younger and did not know what that meant. "I was told humans have a great sense of humor," she added. "I guess my joke bombed."
Sophia's creator, Hanson, said he expects robots to be truly "alive and self aware" in the next 10-20 years but added that his chief scientist is trying to achieve that within five years.
"The idea is not to fear technology but to find ways to use it in a constructive and positive manner," said Hanson.