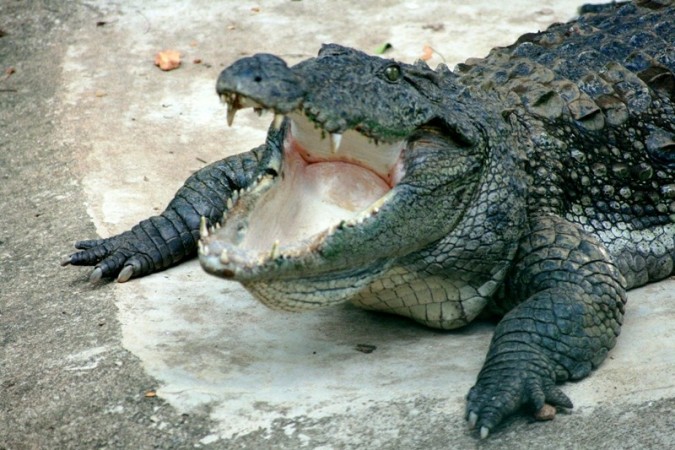 A crocodile in Australia was found to have human remains inside it after a 62-year-old man went missing from his boat in the Kakadu National Park in the Northern Territory.
The incident occurred when the man was fishing with his family and the huge reptile emerged out of nowhere, snatching the man out of his boat.
Following the incident the Australian police opened two crocodiles in search of the remains of the man grabbed by one of these reptiles, while the victim was trying to empty a bucket over the edge of his boat. The cops are now working to match the DNA of the remains with that of the missing man.
The two animals were spotted and killed by Kakadu Park rangers using their skills in crocodile behavior. The rangers then went on for the next task of killing the animals in search for human remains. The task was a success as they could recover some human remains from one of the crocodiles.
"The human remains have been taken for examination. There are a number of statements to be taken from witnesses and a file will be prepared for the coroner." ABC News Australia quoted Sergeant Andrew Hocking.
The one that contained the human remains was a 16-feet long huge creature. According to Graeme Webb, a crocodile expert, these creatures usually attack during warmer months, as they are more active in those days and require more food. In winters, it is not expected for creatures like them to attack their prey, particularly humans.
The family was out for fishing in a well-known tourist spot in Kakadu National Park, southeast of Darwin in the Northern Territories of Australia.
"The difficulty [with the search] in this location is getting in large boats. We're only able to bring in small boats, but using the expertise of the Territory Parks and Wildlife staff, they managed to help us bring it to a conclusion," said Hocking.
"Thankfully this was carried out and [the victim] recovered very, very quickly. [Searches] can be quite difficult and take a number of days sometimes before any resolution. I encourage people to think carefully about their safety at all times," he said. The water is deep in this billabong ... a number of large crocodiles obviously frequent this area," he added.
The Australian police in January had shot two crocodiles dead while hunting for a missing 12-year-old boy, who was attacked by a crocodile in the Northern Territory.
Another man was killed by the reptile in August last year, while swimming in a river in Northern Australia.