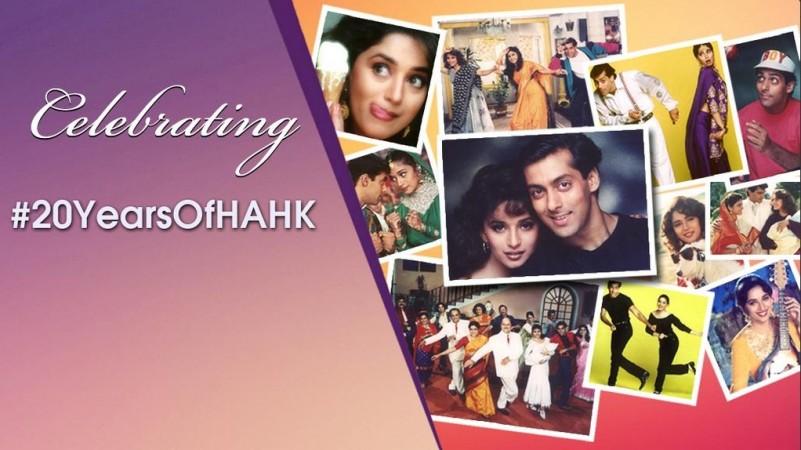 5 August 2014 marks the 20th birthday of legendary Salman Khan-Madhuri Dixit starrer national award winning movie "Hum Aapke Hain Koun...!" (HAHK)
The first Hindi film to gross over ₹1 billion, "HAHK" has remained as an iconic movie in Bollywood for two decades and fans have played a huge role in keeping it in the news.
As a part of the 20th anniversary celebration, Rajshri Productions, looking for a fun way to thank its followers and "HAHK" fans, launched a contest on their official Twitter page (#20YearsOfHAHK). The winners of the contest will receive "HAHK" merchandise and a poster signed by Khan.
Uhoo Uhoo... @ContestAlert Join karo #20YearsOfHAHK #Contest at 12 noon aur jeeto prizes. pic.twitter.com/22frOBWb3B

— Rajshri (@rajshri) August 5, 2014
Rules of the #20YearsOfHAHK Contest. Read carefully! pic.twitter.com/P2WH8jL4Ds — Rajshri (@rajshri) August 5, 2014
Nine HAHK trivia questions were posted in a span of three hours, eliciting tremendous response from the fans. The questions were:
Q1. In which year did Hum Aapke Hain Koun... release?
Q2. Name the place where Nisha and Prem meet for the first time in Hum Aapke Hain Koun...!
Q3. How many songs does the album of Hum Aapke Hain Koun...! have?
Q4. What was the name of the family dog in Hum Aapke Hain Koun...!?
Q5. Name the food items mentioned in the song "Joote Do Paise Lo"!
Q6. What gifts does Prem give Nisha when he comes to pick her up?
Q7. Which question does Nisha ask Prem in this scene?
Q8. What was @AnupamPkher's profession in Hum Aapke Hain Koun...!?
Q9. In a sentence tell us what makes Hum Aapke Hain Koun...! special even today?

The contestants were encouraged to get witty with the final question and impress the judges who are watching.
Contest Ends at 4 pm. You can keep sending your entries by 4. We will announce the winners by tomorrow. Did you guys ENJOY? #20YearsOfHAHK — Rajshri (@rajshri) August 5, 2014
Besides the contest, to mark the historic day, Bollywood Now's official YouTube channel has posted many videos, including Renuka Sahane's (who played Pooja in the film) exclusive interview, 20 Best Scenes from the film, videos of popular Indian television celebrities sharing the unforgettable memories they cherish of the 1994 iconic family drama and director Sooraj Barjatia sitting down with Khan and sharing their experience of working with Madhuri and Bhagyashree (heroine of "Maine Pyaar Kiya") and their most memorable experiences, among others.
In honour of the film's anniversary, Madhuri tweeted a poster of the film.
Wah wah Soorajji, picture kya banayee!Rajshri aur parivaar ko badhai hobadhai #20YearsOfHAHK unforgettable memories pic.twitter.com/Sf3MlukbE4 — Madhuri Dixit-Nene (@MadhuriDixit) August 5, 2014
Renuka Shehane thanked Barjatia for letting her to be a part of the film that made history at the box office.
Deeply grateful to Soorajji for letting me be a part of a film that made history at the box office. #HAHKturns20 pic.twitter.com/g9MjCXgYFx

— renuka shahane (@renukash) August 4, 2014
Ace filmmaker Karan Johar tweeted that "Hum Aapke Hain Koun...!" is the movie that made him want to make movies.
#20YearsOfHAHK ....the movie that made me want to make movies!!!! @MadhuriDixit @BeingSalmanKhan and the man himself #SoorajBarjatya

— Karan Johar (@karanjohar) August 5, 2014
Meanwhile, the fans did not shy away from expressing their love for the movie, which won the national award for the Best Popular Film Providing Wholesome Entertainment in 1995.
#20YearsOfHAHK A film that Changed the face of Indian Cinema. Still the most watched film in theatres! What a Record♥ pic.twitter.com/IJFBM4o4Lg — Soniya #GetYourKICK (@I_Me_MySalman) August 5, 2014
2 decades since I watched my first film at a cinema & fell in love with the movies...forever! #20YearsOfHAHK @BeingSalmanKhan @MadhuriDixit

— Akshaye Rathi (@akshayerathi) August 5, 2014
Because #HAHK gave us the first song of every antaakshari game ever played - Maye Ni Maye! #20YearsOfHAHK @rajshri http://t.co/UcqSpw1yGH — Desimartini (@DMmovies) August 5, 2014