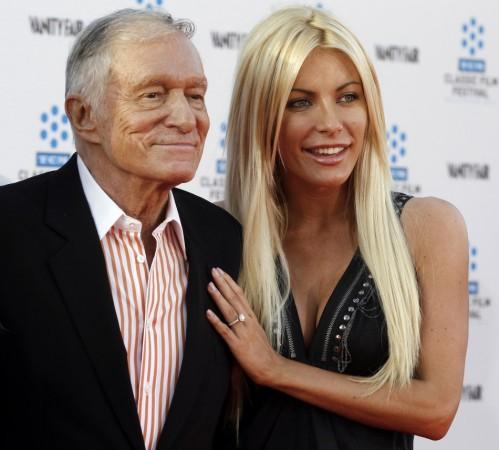 Hugh Hefner, the founder and publisher of Playboy magazine, is once again engaged to Playboy bunny Crystal Harris. The 86-year-old Playboy magnate will reportedly marry 26-year-old Harris at the Playboy Mansion on New Year's Eve, TMZ reported.
Last year in June, Harris ran off from the playboy mansion just five days before their marriage. She then tried to auction the 3.39 carat engagement ring which Hefner had proposed her with .
"[She] couldn't bear to look at the ring anymore because it brought back bad memories", Access Hollywood reported.
More than a year later the two are back together and are belived to be tying the knot again.
"Harris and Hef are better than ever these days, since Harris moved back into the Playboy Mansion earlier this year. We're told the couple have worked out all their previous problems and decided recently they want to try and get married again," TMZ quoted a source as saying.
"Harris feels the time she spent apart from Hef really taught her how to be independent and stand on her own two feet ... something she felt she needed," the source added.
The wedding will be an intimate gathering and only close friends and family will be invited for the big day.
After ditching the magnate, Harris told Access Hollywood that "Over time I just realized it wasn't for me, it was all happening so fast. I love Hef. I care about Hef and always will. We had good times together... I've been over there about three or four times since the breakup and we want to just stay friends."