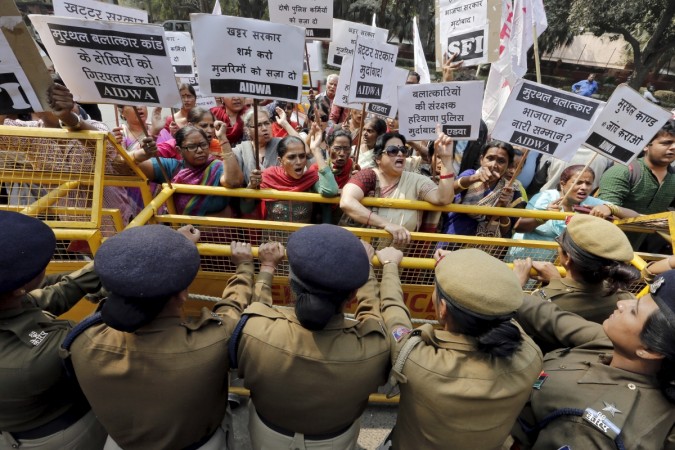 Protesting against a central government decision to restrict employees from withdrawing provident fund until retirement, garment industry workers in Bengaluru extended their roadblock on the second day on Tuesday. The protests escalated into a riot as workers set on fire buses and cars and caused massive traffic jams across the city, the Hindu reported.
Thousands of protesters gathered at the Bommanahalli junction blocking the vehicular movement on the road, while the electronic city flyover on the busy Hosur Road was open to traffic, the road below witnessed swelling crowds, which soon started to spill over from arterial roads into the village roads creating a massive block.
The Hindu quoted Additional Commissioner of Police (East) Harishekaran as saying that "around 20 KSRP platoons, eight DCPs and 300 policemen are at the spot, trying to control the situation" on Hosur Road.
Garment workers' protest, reports added, had spread to the other end of the city where another cluster of workers from different garment factories closed shutters and were out on streets in support. Jalahalli Cross in the north of Bengaluru city witnessed sabotaging where five buses were set on fire and stones pelted at government vehicles and property.
Bengaluru: Police use tear gas shells as protest by garment factory workers turn violent (earlier visuals) pic.twitter.com/rbvrBThNQL

— ANI (@ANI_news) April 19, 2016
Explaining how the arson spread rapidly to different parts of the city on Tuesday, union leaders blamed a news report that implied workers cannot withdraw PF contribution till their retirement.
"The main contention is that many workers of the unorganised sectors are not sure of being employed till they are 58-years-old. Workers, who are over 40 years, are unsure, as they may not be able to find suitable jobs," Jayaram KR from the Garment and Textile Workers' Union told the Hindu.
Union Labour Minister Bandaru Dattatreya had relaxed the restriction on PF withdrawals. As per the new amendments, employees were allowed to withdraw only their contribution to the provident fund accounts, while their employers' contribution was decided to be frozen until retirement.
To watch the videos of the protest click here.