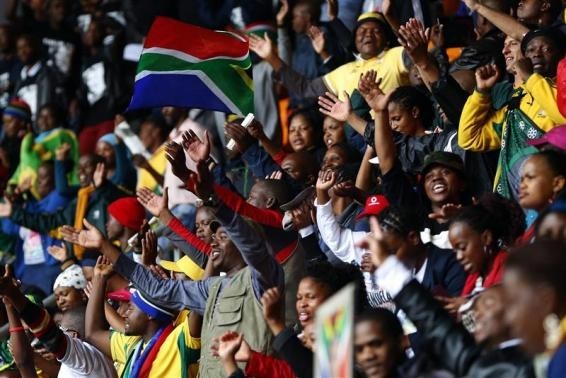 Thousands from across the world have arrived for a huge memorial service at a football stadium in Johannesburg to give tribute to former South African President Nelson Mandela.
The FNB stadium, where the memorial service is being held at, has the capacity to accommodate 95,000 people. Preliminary estimates have shown that at least 80,000 would attend the service. The country is observing a series of events in commemoration of the anti-apartheid hero who died aged 95 on 5 December. The funeral will take place on December 15 in Mandela's ancient hometown of Quno in Eastern Cape.
The crowds, many of whom waited in the rains for several hours to get into the stadium was addressed by South African President Jacob Zuma. Statements and tributes were made by other heads of states such as Cuban president Raul Castro, Barzilian President Dilma Rousseff and US President Barack Obama.
US President Barrack Obama said in his address, "We will never see the likes of Nelson Mandela again. While I will always fall short of Madiba (Mr Mandela's clan name), he makes me want to be a better man".
"It is hard to eulogise any man... how much harder to do so for a giant of history, who moved a nation towards justice," he added.
UN Secretary General Ban Ki-moon said, "South Africa has lost a hero, it has lost a father... He was one of our greatest teachers. He taught by example. He sacrificed so much and was willing to give up all he had for freedom and democracy." He added that there was "sorrow for a mighty loss and celebration of a mighty life".
Chinese Vice-President Li Yuanchao described Mandela as an old friend of China in his address.
The memorial service is considered to be one of the biggest gatherings of international leaders, dignitaries and celebrities in history
Following is the list of some of the world leaders and renowned faces who are attending the memorial service at the stadium on Tuesday:
1. US President Barack Obama accompanied by first lady Michelle Obama
2. Former Presidents George W Bush, Bill Clinton and Jimmy Carter
3. UN Secretary General Ban Ki-moon
4. Former UN Secretary General Kofi Annan
5. Cuban President Raul Castro
6. French President Francois Hollande and his predecessor Nicolas Sarkozy
7. British Prime Minister David Cameron along with Deputy Prime Minister Nick Clegg and Labour party leader Ed Miliband
8. Brazilian President Dilma Rousseff
9. Zimbabwean President Robert Mugabe
10. German President Joachim Gauck
11. Indian President Pranab Mukharjee
12. Namibian President Hifikepunye Pohamba
13. Chinese Vice-President Li Yuanchao
14. Kenyan President Uhuru Kenyatta
15. President of the Palestinian Authority Mahmoud Abbas
16. Canadian Prime Minister Stephen Harper
17. Australiam Prime minister Tony Abbott
18. Spanish Prime Minister Mariano Rajoy and Prince Felepe
19. Afghan President Hamid Karzai
20. Pakistan's President Mamnoon Hussain
21. Sri Lanka's President Mahinda Rajapaksa
22. Norwegian Prime Minister Erna Solberg andn Crown Prince Haakon
23. The Netherland's King Willem-Alexander and Foreign Minister Frans Timmermans
24. European Commission President Jose Manuel Barroso and European Union Council President Herman Van Rompuy
25. Vatican official Cardinal Peter Turkson of Ghana
26. Oprah Winfrey, US TV host
27. Richard Branson, British entrepreneur and businessman
28. Bono, U2 singer and activists
29. Musician Peter Gabriel (He introduced the idea of Elders)
30. Naomi Campbell, British Model