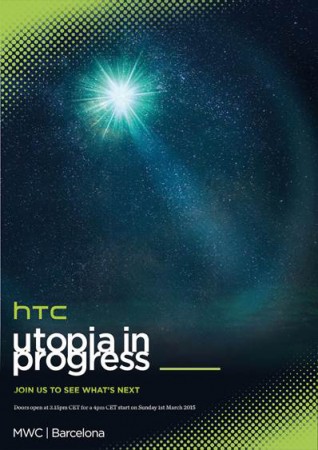 Mobile World Congress 2015 is about to start from 1 March in Barcelona, and it seems HTC is prepping to release its new flagship at MWC 2015.
Several smartphone manufacturers, including HTC, use this opportunity to release new flagship models every year to grab the attention of smartphone enthusiasts. In fact, HTC has a record of releasing most of its flagship smartphones at MWC. HTC One M7 and HTC One M8 were released in MWC 2013 and MWC 2014, respectively.
There have been speclations that the company may release its next flagship at the event. Confirming the rumours, HTC has already started disributing press invites for the upcoming MWC event.
The exclusive press invitation reads: "Utopia in progress. Join us to see what's next." "MWC, Barcelona" is also mentioned at the bottom of the invitation. The invitation doesn't reveal any detail about the handset that HTC has planned on releasing on 1 March, but rumour has it that this smartphone could be HTC One Hima or HTC One M9.
According to the rumours, this upcoming HTC flagship will feature a 5.5-inch QHD display which means that the display will sport 2560x1440 pixels resolution. Even though a few experts believe that the model will feature a 1080p display, we think they won't repeat the same resolution of HTC One M8, keeping the competitors' flagship in mind. The latest rival smartphones include iPhone 6, Samsung Note 4 and LG G2 Flex - which have a better resolution than 1080p. But some blogs, including @upleaks, claim that HTC One (M9) will have a 5-inch 1080p display; increasing the probability of HTC releasing 2 versions of the flagship, focusing different consumer base.
HTC One (M9) or HTC Hima Ace Plus is further rumoured to have a Qualcomm Snapdragon processor, 3GB RAM, 20MP rear camera along with a 3,000 mAh battery and a fingerprint scanner sensor.
The latest smartphone that HTC released at CES 2015, HTC Desire 826, hints that HTC One (M9) or HTC Hima/ Hima Ace Plus is sure to run on Android 5.0 Lollipop. HTC may also feature a new version of Sense UI.