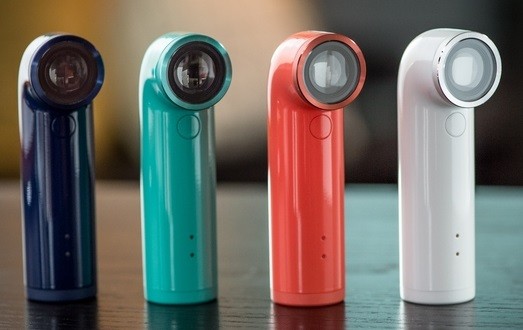 HTC Corporation has recently released a little handheld camera called the HTC RE. The Taiwanese manufacturer claims this little camera will redefine the point-and-shoot camera category.
This thumb-size camera will allow you to click still as well as video images in a simple way. With a cylindrical design this camera can easily fit in your hand. This camera features a built-in grip sensor which instantly activates the camera, once picked up.
"Today, HTC is once again changing the way that people think about technology," said Peter Chou, CEO, HTC Corporation. "Back in 1997, we allowed people to leave their laptops at home in favour of powerful, pocket-sized smartphone computing. Today, we are taking a similar leap forward. Combining incredible hardware with unrivalled software, HTC is reinventing the way we think about imaging. We are taking you out from behind the viewfinder and putting you back where you belong, at the heart of the action."
Sacrificing the power button, the RE features a single shutter button which will allow you to click still images in a small tap and videos in long tap.
Featuring a 16 MegaPixel CMOS censor, RE is capable to record Full HD (1080p) videos recording. The 146 degree wide-angle lens also allows slow motion and time-lapse recording.
The camera can be paired with your Android/ iOS smartphone via RE app which will allow you to setup the appropriate requirement for your shot. The app will also allow you to switch the album and playback stills and videos archived in the camera. HTC promises RE camera will offer real-time video streaming on YouTube through future updates.
It features a MicroSD slot capable of accepting upto 128GB of memory with a plethora of connectivity features including Bluetooth LE, WiFi, WiFi Direct and micro USB (for charging). HTC also offers cloud storage with this app.
Available at $199 for preorders only, this device is expected to arrive in India by November, 2014.