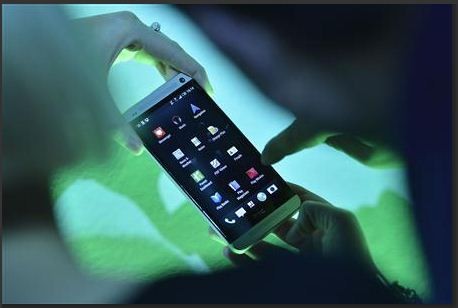 Taiwanese handset maker HTC unveiled its flagship HTC One smartphone in London and New York City a few weeks ago.
One of the the main features of 'HTC One' is its 2.0-ultrapixel rear camera (equivalent to 4.0-megapixel), but don't get fooled by the number. The company claims that its camera is more futuristic than the conventional high-resolution camera totting smartphones.
Apart from superior display resolution and ultra-pixel camera, does HTC's latest offering have any other tricks in its bag to ace Apple's masterpiece?
Here is a breakdown of comparison between HTC One and iPhone 5:
Model

HTC One

Apple iPhone 5

Display

4.7-inch Super LCD 3 with RGB matrix display, 1920 x 1080p

Resolution

(pixel density: 468 pixels per inch)

4.0-inch display with

640x1,136p resolutions

(326 ppi)

OS

Android v4.1.2 OS Jelly Bean

(has more than 675,000 Apps)

Apple iOS 6, currently

updated to iOS 6.1

(has more than 775,000

Apps)

Processor

Quad-core processor with

1.7GHz CPU speed

(Chipset type: Qualcomm

Snapdragon 600)

Dual-core Apple A6 processor with 1.3GHz

clock speed

GPU

Adreno 320

PowerVR SGX543MP3

Internal

memory

2GB DDR2 RAM

1GB LPDDR2-1066 RAM

Storage

capacity

Available in 32 & 64 GB

Available in 16GB,32GB and

64GB variants

Camera

Rear: 2.0 -ultra pixel camera

with 28 mm lens, LED Flash,

BSI sensor, F2.0 aperture.

Front: 2.1 -megapixel camera

with HD 1080p video recording

Rear:8.0-MP with back-side

Illuminated sensor

Front:1.2-MP with 720p HD video recording capability

Network

2G,3G & 4G/LTE in select markets only

3G & 4G/LTE(not available

in India)

Battery

2300 mAh

1,440 mAh with standby time up to225 hours(9 days)

price

Undisclosed

Above ₹42,500
Remarks:
HTC One sports a super LCD 3 display with pixel density of 468 pixels per inch, which is one of highest display resolutions making iPhone 5's retina display look ordinary.
HTC One's quad-core processor further extends its lead over rival iPhone 5, which boasts a slower dual-core processor.
In terms of mobile operating system, HTC One is expected to come with Android 4.1.2 Jelly Bean out-of-box, where as iPhone 5 has received an updated iOS 6.1 OS. They both stand even in this department as both platforms boast a huge collection of apps.
Thanks to the Apple brand, iPhone 5 has recorded huge sales around the world. But it remains to be seen whether HTC will be able to create the same fan following as its rival.