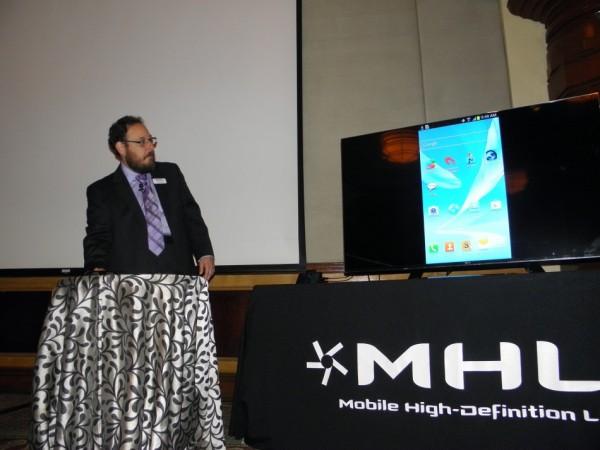 Popular-selling Android smartphones - HTC One and Samsung Galaxy S4 - which are set to release in India this week will come with MHL (Mobile High-definition Link) specifications.
MHL technology will enable users to connect their smartphones to television sets via HDMI port and play mobile phone games, browse internet, prepare word documents on the big screen of the television using a remote controller and Bluetooth enabled keyboards, almost turning an ordinary television set in to a smart TV.
Key features of MHL based devices include:
Full HD 1080p display.
8 channel surround sound.
Charging while connected to TV and display devices.
Remote control protocol.
No Lag.
True Plug and Play.
MHL technology based smartphones and televisions which are currently available in the market include Samsung Galaxy Note 2, Galaxy S3, Sony Xperia Z, HTC Butterfly, LG Optimus G. They also include the soon-to-release Galaxy S4 and HTC One. Select display devices from Sony, LG, Samsung, Sharp, Hitachi, Toshiba also come with MHL specifications.
When asked about the MHL's plans for alliance with Indian smartphone makers, Michael Bergen, senior partner alliance manger, MHL, LLC said that the consortium is an open standard body and they are open to build partnership with domestic smartphone makers Micromax, Karbonn ,Lava and others.
MHL consortium was founded in April 2010, by top technology companies such as Nokia, Samsung, Silicon Image, Sony, Toshiba and now has more than 200 member partners. Since the first retail debut of MHL-enabled devices in 2011, it has now grown into a big ecosystem comprising 300 plus unique products, which include AV receivers, Blu-ray disc players, cables, adapters, TV as well as automotive accessories. It has recorded a staggering user base of more than 220 million product installations and continues to grow.