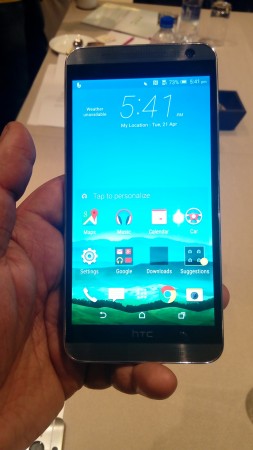 HTC launched its flagship One M9 smartphone in Mobile World Congress 2015.
Apart from One M9, the Taiwanese smartphone-maker has also launched two bigger siblings One M9+ and One E9+. All the three smartphones come powered by Android 5.0 Lollipop OS.
Out of the three, HTC decided to roll out official Android 5.1 Lollipop update for One M9. Though the smartphone is available in locked and unlocked versions across several countries, HTC decided to roll out the worthy update for Sprint owners only.
Geeky Gadgets spotted a tweet wrote by HTC VP Mo Versi, which reads as "HTC One (M9) Sprint Owners! We have received technical approval on Lollipop OS 5.1 which includes camera improvements. OTA to start on 7/1."
After receiving mixed reaction from media, HTC has not launched One M9 in every country. For instance, HTC launched One M9+, which offers a larger display like One E9+. Since all the three phones currently runs on the latest Sense interface along with same Android 5.0 Lollipop and packs almost similar specifications, its easy to speculate that HTC might launch the Android 5.1 Lollipop update later for all these phones.
Android 5.1 Lollipop update features bug fixes, patches and some new features, making it really handy to get the best out of the device.
Recently, Samsung launched Android 5.1 update for its latest flagship devices, Galaxy S6 and Galaxy S6 Edge. Motorola has also announced to roll out Android 5.1 Lollipop update for Moto Turbo and a few other devices.