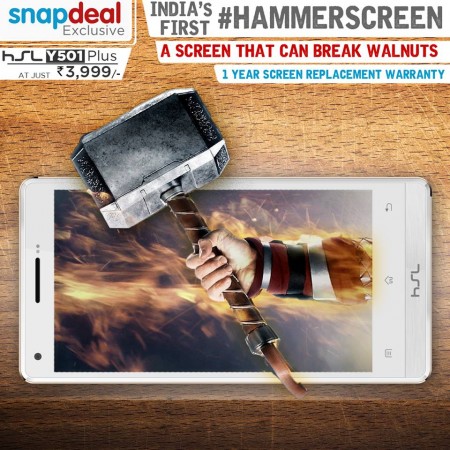 Find reasons to drop your phone. HSL on Friday launched a new budget smartphone in India featuring a shatterproof display, much like the Moto X Force, but a lot cheaper. HSL Y501 Plus is the company's first smartphone to have a "Hammerscreen" display, which HSL claims survives falls and even breaks walnuts. To add further assurance, HSL Y501 Plus comes with a one-year guaranteed touch screen replacement in case of any damage.
HSL Y501 Plus is available exclusively on Snapdeal at an affordable price of just Rs 3,999. The company's Director for India of Consumer Experience Naresh Yadav said HSL relies on "word of mouth" and "customer advocacy" to promote its products, which could explain the low cost of the handsets.
"We are very happy to introduce the Y501 Plus in India which is specifically designed and developed keeping Indian consumers' needs for vernacular language solutions and a tougher screen at the centre," Yadav was quoted as saying by DNA India.
In terms of specifications, HSL Y501 Plus isn't too bad at all. It has a 5-inch HD IPS display that is unbreakable — one of the strongest USPs for the handset. The Y501 Plus smartphone is powered by a 1.3GHz quad-core processor, 1GB RAM and a 2,000mAh battery. The handset features a 5MP rear-facing camera with LED flash and a 2MP front-snapper.
To attract the Indian crowd, HSL has integrated 21 regional languages and allows automatic translation of the phone book as well. The Y501 Plus supports dual SIM cards, Wi-Fi, Bluetooth, GPS, micro-USB and 3G bandwidths. For those interested, HSL Y501 Plus measures 145.5 x 73 x 9mm, and weighs 143 grams.
In other news, Motorola has widely been teasing its shatterproof display in the Moto X Force by comparing it with the likes of Samsung and Apple devices. The handset is seen on a flagship level with high-end display, camera, processor and design. The price is expected to be around Rs 45,000, and the official launch is set for 1 February.