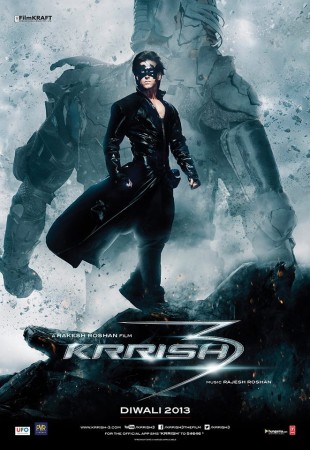 Hrithik Roshan's much-awaited film "Krrish 3" will be releasing simultaneously in three languages - Hindi, Tamil and Telugu - on 1 November.
The stupendous success of Shah Rukh Khan's "Chennai Express" has opened the market for Hindi films in south. Popular Bollywood stars are vying to release their films in south India as they enjoy a huge fan following there as well. Some of them even dub their films in regional languages to cater to a wider south audience.
"Krrish 3" director Rakesh Roshan said that he dubbed the Hrithik-starrer in regional languages because he wanted every Indian to watch the film. He particularly chose the Tamil and Telugu versions, as dubbed Hindi films have a huge market in these regions.
"The dubbed versions of 'Krrish' and 'Dhoom 2' have been the highest grossers in Tamil and Telugu industries. Also, Hrithik has a huge fan following down South. When I made Krrish, I had wanted every Indian to watch it. So, I got the film dubbed and the result was for all to see," Rakesh told The Times of India.
"Distributors are looking forward to the release of the dubbed versions and the feedback has been good. The Tamil and Telugu regions are a huge market - they even include the Kannada and Malayalam audience. So, the move makes sense from a trade point of view," he said.
Moreover, the female leads of the film - Kangana Ranaut and Priyanka Chopra are well known in both the industries. While Ranaut starred in "Dhaam Dhoom" (Tamil) and "Ek Niranjan" (Telugu), Priyanka Chopra acted in "Thamizhan" (Tamil) and "Thoofan" (Telugu).
Superhero flick "Krrish 3" is a sequel to blockbusters "Krrish" and "Koi Mil Gaya." The film has Vivek Oberoi playing the antagonist named "Kaal." Theatre bookings for the film have already begun in Tamil Nadu and Kerala. It is all set to have a grand release on 1 November this year.