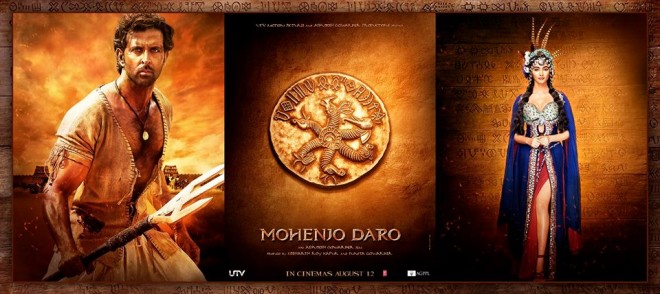 Hrithik Roshan's "Mohenjo Daro" is one of the most awaited films of the year. Weeks before its release, the period-drama has been selected for screening at the 69th Locarno Film Festival, which will be held during Aug.3-13.
We are honoured and humbled that 'Mohenjo Daro' has been selected for screening at the closing night ceremony at Piazza Grande section of the prestigious festival. We are extremely thrilled that the film will be showcased to the European audience as part of the closing day gala," Disney India Vice-President (Studios) Amrita Pandey said in an official statement.
The Ashutosh Gowariker-directed film started off on a controversial note. The trailer of the movie has been heavily criticised by social media users, some of whom thought that the makers had got their facts incorrect, especially with the film's leading lady Pooja Hegde's costumes and head gear.
In a series of tweets, JNU scholar Ruchika Sharma slammed the team for getting the clothing all wrong. She wrote that they could at least have taken cues from the terracotta figurines.
In one of the recently-concluded press meets, the filmmaker addressed the issue, saying that the Harappan civilisation had a lot of nudity, which cannot be shown on screen. "We have tried to create a world that we had imagined. It is my make belief world. There will be reservations, I won't say it is wrong but I would request one should look at it with little openness," Ashutosh told the Press Trust of India.
Scheduled to open in theatres on Aug.12, the same day as Akshay Kumar's "Rustom," the film is a revenge saga. It features a string of action sequences, in which Hrithik will be seen taming the bad guys and wild beasts using bare hands.