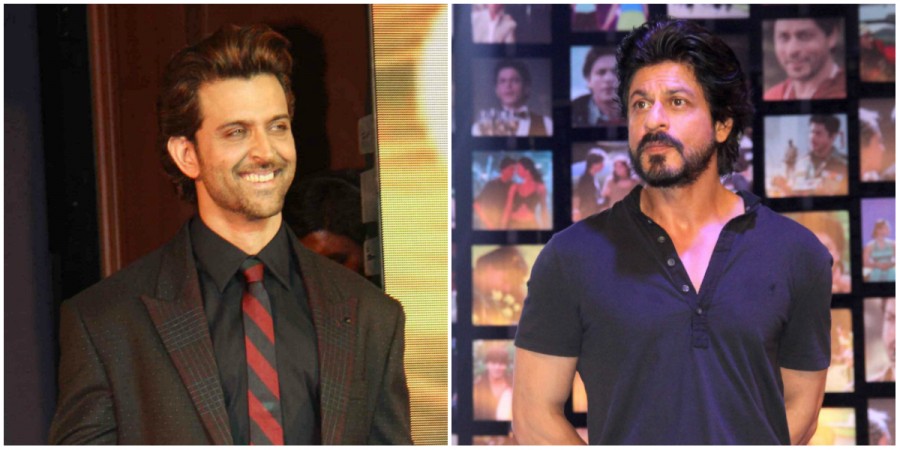 Shah Rukh Khan and Hrithik Roshan are likely to have a big box office clash on Jan. 26 next year. Director Sanjay Gupta has confirmed the release date of "Kaabil", and "Raees" too is expected to hit the screens on the same day. Now, fans of both the superstars have started a Twitter war of words.
Hrithik's fans began expressing their excitement after Sanjay Gupta confirmed that "Kaabil" will be released on Republic Day 2017. Soon, SRK's fans started flooding the micro-blogging site with tweets suggesting that "Raees" will wash away Hrithik's film.
Some of Shah Rukh's supporters also mocked Hrithik for the below expected performance of "Mohenjo Daro" at the box office.
On the other side, Hrithik's admirers fired back saying that "Kaabil" will shine at the box office and out-throw the SRK-starrer.
Fans of superstars often get engaged in Twitter war with some of them even turning ugly. However, a section of fans also wished that both the movies perform well at the box office.
Check some of the Twitter reactions after Sanjay Gupta made the confirmation.
@imparthvadher: #Raees will show #Kaabil its aukaat on republic day '17 if it clashes [sic].
@iluvhrithik: @iHrithik @iamsrk all the best both of u for kaabil and raees..i am sure both of u ll rock. waiting for 26th jan. will watch both [sic].
@SRV_M_SRKian: lets c I still don't think der wil b ne clash bt if der is Kaabil will b at loss n HR finished...he doesn't hv ne gud future prjcts 2 [sic].
@AdiSRKian: If it clashes..Lets nt make it lyk other clashes.Lets watch both films support both films nd may both be successful [sic].
@irajivhr: We will not fight ..but some fans from both fanbases would try to do so..but we shud stop them #Kaabil #Raees [sic].
@MalluSRKian: #Kaabil deserves 26 Jan 2017 bcoz they booked it first..one need not step back after locking a date (like #Raees makers did)..Clash is better [sic].
@CoolFanClubofHR: Clash?! #Kaabil & #Raees? Just chill & watch #K3G!! :) [sic].
@Abhi_Original: I hope common sense wins here, and clash between #Kaabil and Raees is averted. It hampers the friendship, something industry is lacking atm. [sic].
@mohitkardiya: The film hasn't released and the SRK fans started feeling the heat #Kaabil [sic].
@IANANDASHU: we don't have to worry #Raees makers will surely shifttheir dates #Kaabil rocks [sic].
@mohdshadaan1: Dear SRKians Aane do @_SanjayGupta ki #Kaabil ko Mohenjo Daro se bura hashr karenge Raees bhai [sic].
@SRKversion2_0: ohkk yar but u mark my words that kaabil will be flop nd Raees will be blockbuster...Screen shot lelo aap mere tweet ka [sic].
@NrendraWriter: This time Kaabil will badly destroy Raees because HR knows his film is best for Raes They know thakeli hai [sic].
@SrkNaved: Warning to those ppl who will create a fight between us. We r united we will nt fight so stay away & mind ur business #Raees vs #Kaabil [sic].