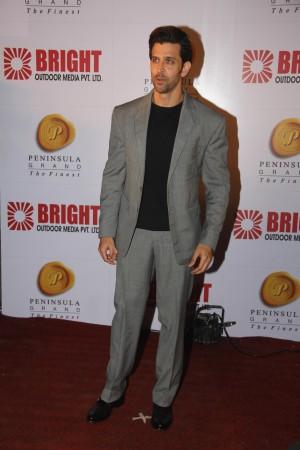 According to some reports, Hrithik Roshan's fee for his upcoming film "Mohenjo Daro" is Rs 50 crore, exactly half the film's budget. The Ashutosh Gowariker period drama has a budget of Rs 100 crore and half of the amount will be used to pay the "Bang Bang" actor, Bollywood Life reported. If true, it will be interesting to see how Gowariker will make the CGI-intensive film in half the budget.
It was earlier reported that Hrithik will take home a whopping Rs 50 crore for the Gowariker directorial. Such an expensive package will make the actor one of the highest-earning Bollywood stars.
Meanwhile, the film and the actor have been in news due to several reasons. Recently, there were reports that the superstar will fight a 20-foot-long crocodile for one of the scenes in the film. Unlike his tussle with tigers in the film, the combat with the gator in question will be shot using special effects.
Other reports said that Hrithik will drop his clothes in the introductory scenes. He is also in news due to a passionate love making sequence with actress Pooja Hegde.
After "Jodha Akbar", this will be Roshan guy's second project with Gowariker and is slated to be released on 12, August, 2016.
However, this year, the handsome hunk is not coming up with any of his releases. But he treated his fans with a music video, "Dheere Dheere Meri Zindagi Mein Ana". A remake of the love anthem from 90s classic "Aashiqui", it features Hrithik and Sonam Kapoor and was produced by Bhushan Kumar.
Though the Greek God has not shown his dance moves in the video, his charm lifted it to the top of the charts with over 35 million viewers on YouTube.