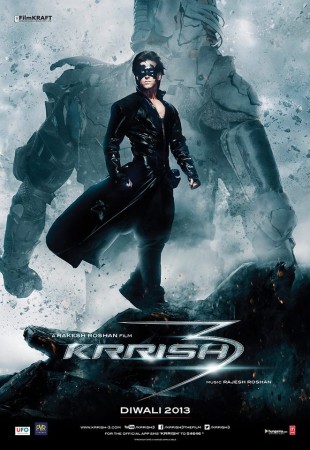 Hrithik Roshan, who will resume to his super-hero role in the forthcoming film "Krrish 3", wanted to play the villain, but his father Rakesh Roshan was against it.
The 39-year-old actor, who was recently in Singapore for promoting the film, said he loved the villain's part, which is played by Vivek Oberoi.
However, his father Rakesh, who is the director and producer of the film, insisted him on playing the superhero.
"When I read the script, the villain's role looked very exciting. Since I've already played the positive guy, I thought I could play the villain this time around. But my father was firm that I can never play the villain," Hrithik said, according to The Times of India.
Senior Roshan wanted to create a super villain who has the powers to fight with the superhero. And according to Hrithik, only Vivek can play the role of an evil mutant in the film.
"Our list was very small as it had only one name - Vivek. I wanted to play the negative character, but I was not allowed to. I could not have done what Vivek has done. He has done an amazing job," said Hrithik, according to IANS.
The actor is all set to rock the box office on Diwali with film "Krrish 3". The hype surrounding the film is high and the production team is striving to make it a blockbuster hit.
The film is the third installment in the "Krrish" franchise after "Koi... Mil Gaya" and "Krrish". The first two installments turned out to be super successful films in the Indian film industry.
Apart from Hrithik and Vivek, the film also features Priyanka Chopra and Kangana Ranaut in lead roles.