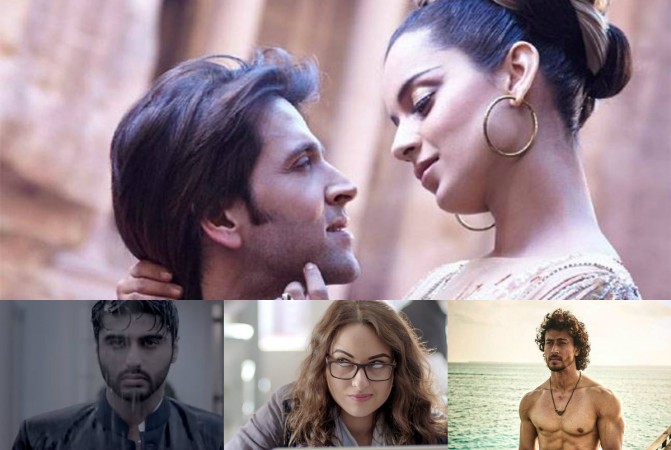 Well, looks like B-Town celebrities are not just watching the ugly Hrithik Roshan-Kangana Ranaut war, but have also picked up the sides!
A few stars have 'liked' Hrithik's Instagram post and that says a lot about their opinion. Does this mean that they favour Hrithik over Kangana?
Hrithik had issued a statement on the controversy on Thursday morning and within no time, people started 'liking' the post. Sonakshi, Arjun, Tiger, Yami and producer Ritesh Sidhwani liked Hrithik's open letter on Instagram.
Each one of them has a connection to Hrithik and it is fair if they are taking his side.
While Tiger Shroff is all set to feature in a Yash Raj Film opposite Hrithik Roshan, Sonakshi has always fangirled Hrithik (she confessed when he came on the sets of Nach Baliye), Arjun Kapoor had revealed that he has a man crush on Hrithik since a long time and no guesses for Yami (they have done Kaabil together).
But the question is will they speak on this topic in public?
Soon after the statement, the ongoing feud between Hrithik and Kangana had a new development. A fresh leak — an email from Hrithik to Kangana — was released by Pinkvilla.
The email read:
"Saw the email flood, and I don't blame you at all. I am a little occupied so could not reply. Our life's different, unlike other couples :) I so wish it wasnt the case, but sadly that's how it is. Bear with me, as I emerged through all this with a clean slate, start afresh with new memories to be made.
P.S. I did see the video, and it was such a tease! I wanted so much more, but dint say anything since you were unwell."
"Sent from my iPad", was the footnote.
Reports suggest that the forensic department had cleared his name in the case as far as his email ID is concerned. He claims the email has been created by an imposter to converse with Kangana.
But with the footnote "Sent from my iPad," it clearly suggests that the forensics were not handed over Hrithik Roshan's iPad, but only his laptop, which he may not have used to access this particular email address of his. The forensics investigating the case are said to be private detectives. So, are their findings true and will they hold true in the court of law?
Let's wait for the final verdict.