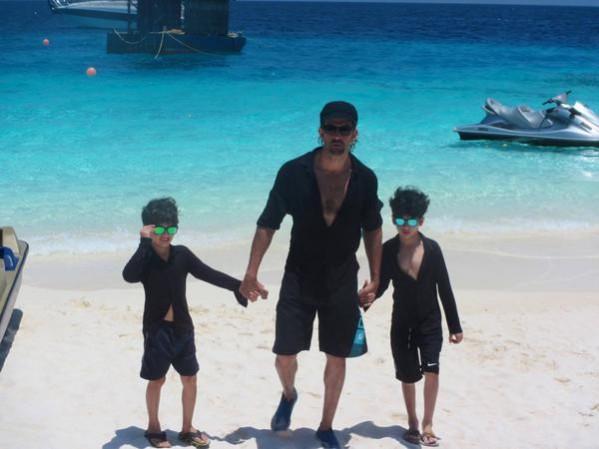 Bollywood heartthrob Hrithik Roshan has taken a break from his busy schedule to spend some quality time with his sons Hrehaan and Hredaan.
The "Bang Bang" actor took his sons on a vacation to South Africa this time.
The 41-year-old star's pictures, where he is seen exploring the streets of South Africa with his two champs, are doing the rounds on social media. It looks like the trio is having a great time on their adventurous trip.
Hrithik Roshan with Hrehaan & Hridaan in South Africa pic.twitter.com/0MpI9RVQ4n

— Team Hrithik Roshan (@iHrithikFan) June 20, 2015
Travellers.A kinship dat gives without evr taking. Striving 4 dat unreachable star no matter hw hopeless or hw far. pic.twitter.com/9IYWKcp6aH — Hrithik Roshan (@iHrithik) June 15, 2015
earth is a dot in d universe.Yet evry insignificnt single 1of us owns d power 2 feel on TOP of d WORLD #humanspirit pic.twitter.com/4N6ZA6FrMv

— Hrithik Roshan (@iHrithik) June 13, 2015
@iHrithik poses with the boys at the Cape of Good Hope. Thanks for the pics @EShmonia1970 pic.twitter.com/F4kmmuAVGE — HrithikInspires (@HrithikInspires) June 21, 2015
@iHrithik clicking with fans in southafrica on sunday!! Courtesy (Ambreen & Nasreen) pic.twitter.com/SV3J2BoMC5

— HrithikInspires (@HrithikInspires) June 15, 2015
Hrithik is often seen taking his kids on such vacations to various destinations; last time it was the Maldives.
Currently, the actor is busy shooting for Ashutosh Gowariker's "Mohenjo Daro" this year, which will hit theatres in 2016. But he took some time off for his two adorable kids and took them on a holiday.
Although Hrithik and Suzanne's divorce has affected the kids a lot, the couple tries to spend as much time possible with their little ones.
Reportedly, after SA, the trio will fly to London, where the kids will visit their mother.