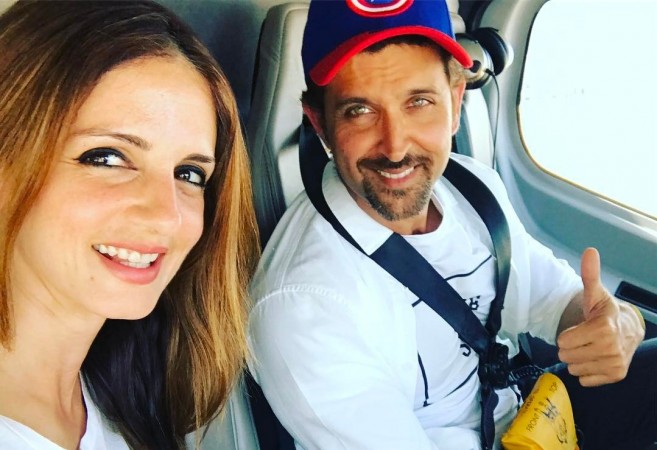 Hrithik Roshan had poured his heart out while speaking about his alleged seven-year-long affair with Kangana in his two back-to-back interviews on two news channels and accused her of stalking, harassment and mental torture over the past few years.
However, in these turbulent times, Hrithik Roshan's ex-wife Sussanne Khan has been giving him all her support.
The estranged couple, Hrithik and Sussanne, who are often seen spending quality time with each other at dinner dates, family vacations or night outs, are giving everyone serious ex-couple goals as they went out together to her interior design store in Mumbai called The Charcoal Project which was set up nearly two years ago.
Hrithik Roshan, who was earlier seen partying with Karan Johar and Farhan Akhtar post the latter's open letter on his ongoing feud with Kangana, shared the photograph of him posing with Sussanne and other ladies on Instagram.
He wrote, "Meet the awesome gang of girls who've created the exquisite experience that is The Charcoal Project. Keep flying higher ladies! #itsawalkinwonderland."
Hrithik and Sussanne might have parted ways post-divorce in 2014 but that hasn't affected their bond and mutual respect towards each other. They are also responsibly co-parenting their two kids Hrehaan and Hridhaan and making sure they get to spend time with them.
In his fight against Kangana, Sussanne was the first one to come out in support of Hrithik to prove that the viral picture of her former husband with Kangana was doctored.
Also, it was Sussanne who convinced the actor to muster courage and expose Kangana in public as she strongly believes the Queen actress is making up stories about her purported affair with her former husband.
Meanwhile, after sharing his ordeal on national television, Hrithik has requested media not to approach him for any further interviews as he wishes not to speak anymore.