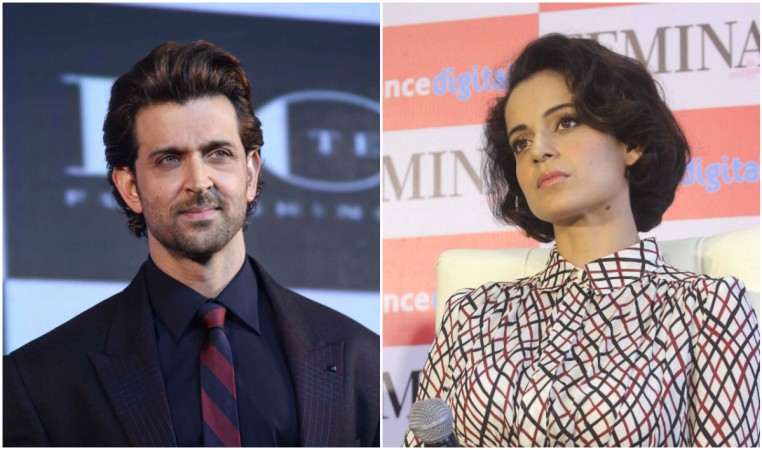 Hrithik Roshan and Kangana Ranaut's legal battle is turning uglier by the day. While Hrithik's lawyer said that Kangana has been delaying the investigation process, the actress' counsel has alleged that Hrithik's PR team has been misleading the media by spreading false rumours.
Even as Kangana is reportedly yet to record her statement with the police, Hrithik's lawyer Dipesh Mehta said that the "Queen" actress is more interested in giving varied statements to the media than recording one official statement with the police.
"Instead of giving so many media statements, they (Kangana) should record one official statement with the cyber crime cell which will really help the investigation. They are clearly more interested in media wars than anything else. The entire process of investigation is stalled because they haven't officially recorded their statement with the authorities," Mehta told Indo-Asian News Service.
There were reports that the police were supposed to visit Kangana's house to record her statement and inspect her computer on April 18, but it was further delayed as Kangana was not available at her residence. However, Kangana's lawyer Rizwan Siddiquee said that the police had no plans to visit Kangana' house on April 18 and these rumours are being circulated by Hrithik's PR team.
"I have been receiving calls from media persons since last two hours. They have been told by Hrithik Roshan's PR team that police is coming to meet Kangana today (Monday). That's a blatant lie as no one is visiting Kangana, as has been communicated by Hrithik's team," Siddiquee was quoted as saying by IANS.
"My client is not a coward to disappear suddenly. We have always been handling the matter legally and without any fear. Hrithik's PR team is just misleading media persons for obvious reasons," he added. Meanwhile, the Times of India has reported that Kangana will be recording her statement on April 30.
Hrithik and Kangana were reportedly in a relationship and the two entered into a legal battle regarding some private e-mail conversations between them. Hrithik said that he had never interacted with Kangana over e-mail and someone was using a fake email ID on his name.
On the other side, Kangana has been stating that it was Hrithik with whom she had conversed over e-mail and also alleged that the actor had hacked into her e-mail account to delete the conversations. Hrithik eventually filed a case with the cyber police, alleging that a fake e-mail ID was being operated on his name.