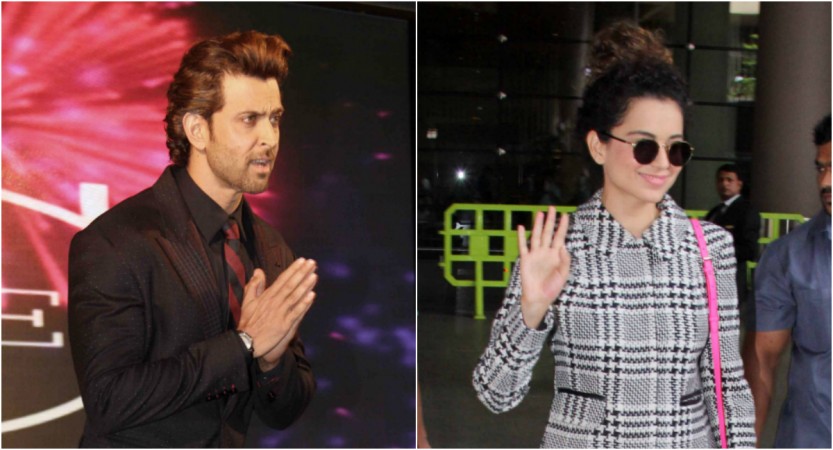 Hrithik Roshan and Kangana Ranaut's war of words took a nasty turn Tuesday, March 15, when the stars slapped legal notices on each other. While Hrithik in his notice asked Kangana for a public apology for defaming him and trying to project that they had had a relationship, she responded to Hrithik's accusation with a 21-page notice of her own.
According to a report in Mumbai Mirror, the actor, in a statement issued through his lawyer Deepesh Mehta, has accused the "Queen" actress of sending him a total of 1,439 emails, most of which were senseless, absurd and personal. Apparently, Hrithik has not responded to any of the mails.
The notice said, the duo met at Karan Johar's party in 2014 and Kangana thanked the actor for congratulating her for winning the National Award for "Queen." It was then that Hrithik clarified he had not sent her any congratulatory mail and someone was impersonating him.
However, Kangana then apparently started sending him emails on his original email address. The "Tanu Weds Manu Returns" actress reportedly sent a total of 1,439 mails (an average of 50 emails per day) to Hrithik. Apparently, the actress had even called Hrithik's father Rakesh Roshan and talked to him about his son.
On the other hand, Kangana in her notice has apparently accused Hrithik of taking advantage of his then-impending divorce to play with her emotions. Also, the actress has reportedly claimed it was Hrithik who had shared his email address with her.
It should be mentioned here that differences between the "Mohenjo Daro" actor and Kangana came out in open when reports of the actor not wanting to work with her in "Aashiqui 3" surfaced. This didn't go down well with the actress, who in an interview with Pinkvilla referred to the actor as a "silly ex."
"Yes, many lame rumours are doing rounds, even a dumb ass can tell where these rumours are coming from. I don't know why exes do silly things to get your attention. For me that chapter is over and I don't dig graves, [sic]" she had said.
Later, Hrithik took to his Twitter handle to deny the news of having dated the actress. "Ther r more chances of me having had an affair with d Pope dan any of d (Im sure wonderful)women d media hs ben naming.Thanks but no thanks [sic]," he had tweeted.