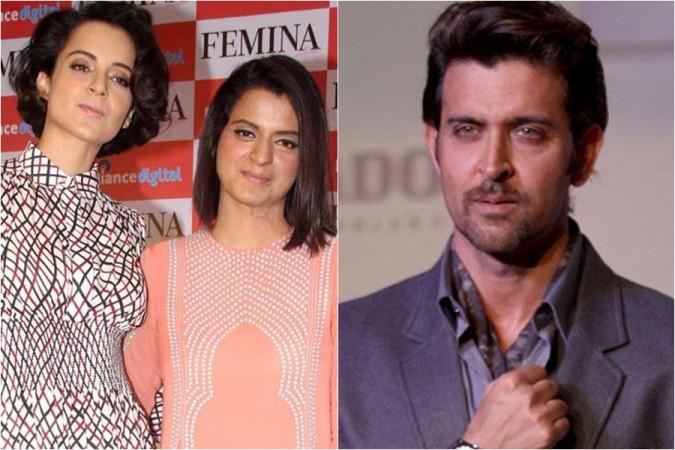 Kangana Ranaut and Hrithik Roshan's ugly spat has gone to another level altogether.
Over the past few days, shocking details have come forward thanks to Hrithik's last year's sensational 29-page complaint and a set of emails that were filed as a part of the annexures by his lawyer Mahesh Jethmalani with the Mumbai Police.
The actor had, thorugh the documents, accused Kangana of stalking him.
A private forensic report obtained by Times Now backs Hrithik's claim that the email id on which Kangana claimed she used to interact with hims does not belong to him but to an imposter.
The emails — apparently sent by Kangana to Hrithik — were were published in full by Republic TV in their report. They show the former was obsessively attracted to the latter.
Kangana's sister Rangoli Chandel — who is keeping a close eye on every development of the case — however appears to be more amused than perturbed with the reports.
In a series of tweets Rangoli claimed that Hrithik doesn't have any proof other than the emails to show Kangana was suffering from a mental disorder. She also claimed she can provide plenty of proof of Hrithik's skull-drilling brain surgery that he underwent in 2014, adding that he took the help of his therapist to overcome depression and a suicidal state of mind.
She wrote on Twitter: "This is the same private forensic report Hrithik paid for in 2016, police investigation report says No Imposter. Come on @iHrithik move on now!! Stop using this same old boring stuff !!! I mean really .... private forensic report!! What all u do. Acc 2 Hrithik Kangna
sufrin frm mentl disordr othr thn fake mails he dsnt hv ny othr medicl proof...But I can give plenty of proofs of Hrithik's skull drilling brain surgery in 2014. N post dt slf confsed lyf coach thrapy fr years wid Arfin 2 batl dpresion n suicidal state f mind [sic]."
Come on @iHrithik move on now!! Stop using this same old boring stuff !!! I mean really .... private forensic report ??!! What all u do... ?

— Rangoli Chandel (@Rangoli_A) October 4, 2017
On the other hand, Kangana's lawyer Rizwan Siddiqui has said Hrithik's paid forensic report would obviously be favouring him and that these private reports don't have any evidential value.
He added that there was no need for his client Kangana to cooperate with a private forensic investigation when the police was investigating the matter parallely and one where the actress had shown full cooperation.
Kangana's lawyer also said he was is likely to take legal action against Hrithik, calling the reports desperate measures by the actor.