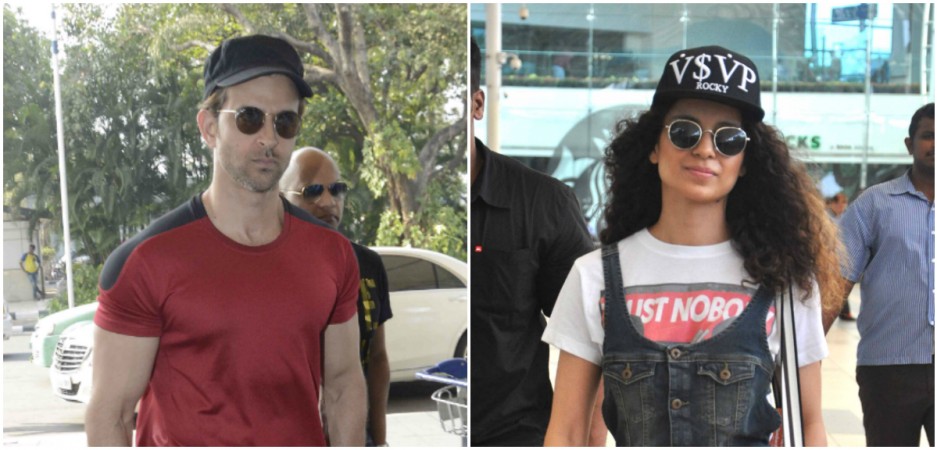 Kangana Ranaut's statement in Hrithik Roshan's alleged fake email account case has been recorded on Saturday. The cyber team of the Mumbai police has recorded the actress' and her sister Rangoli's statements at her residence. Kangana reportedly said that Hrithik had hacked into her email account.
Kangana's lawyer said that her statement has revealed certain things that were not mentioned by Hrithik in his FIR. "The police were extremely happy to get more information from my clients and learn new things, which were not mentioned by Hrithik in his FIR. Going forward, a lot of things will unfold and even the aim and objective of why Hrithik was circulating a private report to the media to clear his name, would become obvious," the Times of India quoted Kangana's lawyer, Rizwan Siddiquee, as saying.
Hrithik had filed an FIR on March 25 this year, alleging that an impostor had been communicating with Kangana from a fake email ID by his name. The email ID was "hroshan@email.com." The cyber team eventually found that the email ID was being operated from the US. The cyber team was supposed to visit Kangana for her statement on April 18 but had to postpone the visit owing to the actress' hectic schedule.
Meanwhile, the police are confident that the "impostor" will be traced soon if Kangana allows the team to access her emails that were exchanged between her and the alleged impostor. "If we get access to her email, tracking down the impostor should be a matter of days," an investigating officer told the Indian Express.
While Kangana has been claiming that it was Hrithik with whom she had communicated with, the "Mohenjo Daro" actor claims that he had never communicated with her via email and it was an imposter exchanging emails with her. The issue came to light on May 24, 2014, when Kangana thanked Hrithik for appreciating her work in "Queen" at a party, according to Hrithik's FIR.
In the FIR, Hrithik said that the actor told Kangana that he has not even seen the movie and when the actress told him about the email ID, he said that this email account does not belong to him.