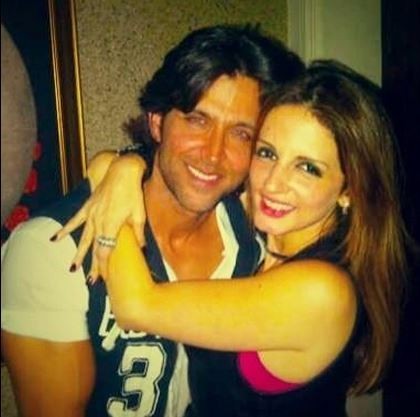 Hrithik Roshan and Sussanne filed for legal separation on 30 April, and now the confidential alimony agreements have been revealed.
Both Hrithik and Sussanne filed the divorce mutually and made no allegations against each other, but it seems that the actor will have to pay heavily for the alimony.
The divorce has not yet been finalised, but it has been reported that their sons, Hrehaan and Hridhaan will be with Sussanne.
The "Krrish 3" actor will pay for his children's and Sussanne's monthly maintenance and added that he will provide her flat, cars and fixed deposits for their sons, reported Daily Bhaskar.
"Sussanne will get a terrace flat, two cars and monthly maintenance for life time for herself and kids Hrehaan and Hridhaan. Mother will have the custody of them till the two children turn 18 years old," a source informed the daily.
The source further added that Hrithik would be permitted to visit the boys during the weekends.
The alimony arrangement has not been confirmed officially, but if the reports are to be believed, then the divorce is sure to cost Hrithik a great deal financially, apart from the emotional factor.
However, despite the couple filing divorce legally, the actor played to be a perfect father as he took his kids for a holiday in Lonavla on Thursday, reported Mumbai Mirror. A party in Roshan's family home, Palazzo, was also organised for the actor's younger son, Hridhaan, who celebrated his birthday on 1 May.
Previously, Hrithik had turned up for Hrehaan's birthday on 28 March, as a party was organised by Sussanne in her rented apartment in Versova.
Meanwhile, it is being reported that the 40-year-old actor tried to down his grief by dancing away the night before he filed divorce. Hrithik, who had attended Sanjay Kapoor's wife Maheep Kapoor's birthday bash on 29 April, took the dance floor along with other celeb guests. However, Kapoor's business partner and friend Sussanne was missing from the event, carried another report by the daily.
(Ed:AJ)