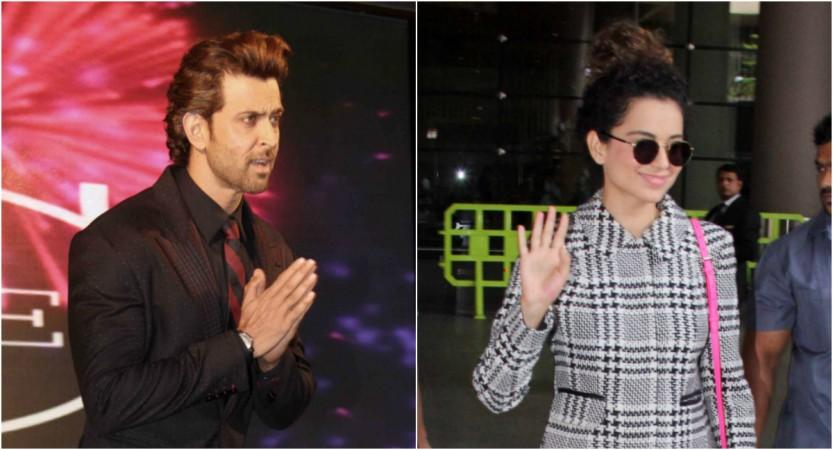 Hrithik Roshan and Kangana Ranaut opened a can of worms after they publicly took jibes at each other. The situation is now spinning out of control with reports stating that the stars have slapped each other with legal notices.
According to a SpotboyE report, Hrithik, in a six-page notice, has asked Kangana to apologise to him. "In that notice, Hrithik told her that she should call for a press conference and render an apology to him, spelling out that she had not hinted at Hrithik Roshan as her 'silly ex'. Else he would make all her correspondence to him public," a source told the entertainment portal.
However, Kangana apparently responded to the notice with an even longer one. The 21-page notice charged the suave actor with intimidation and threat under relevant sections of the Indian Penal Code.
The mudslinging has been on since January. After reports of Hrithik not wanting to work with Kangana surfaced, the latter told Pinkvilla that she knew it was her "silly-ex" who was instrumental in spreading such rumours.
"Yes, many lame rumours are doing rounds, even a dumb ass can tell where these rumours are coming from. I don't know why exes do silly things to get your attention. For me that chapter is over and I don't dig graves," she said. What made matters worse was Hrithik's indirect tweet, in which he slyly denied news of having dated the leading lady.
They may seem messed-up in their personal lives, but on the work front, they are involved with some amazing projects. Kangana is busy with Vishal Bhardwaj's "Rangoon," which also stars Shahid Kapoor and Saif Ali Khan, Hrithik is off crutch and begins shoot on "Mohenjo Daro" this week.
Hansal Mehta's next awaits Kangana, whereas Hrithik will begin work on Sanjay Gupta's "Kaabil," which features Yami Gautam as his love interest.