Reaching out to his fans through social media forums, Bollywood heartthrob Hrithik Roshan said he is bouncing back to health after undergoing a brain surgery on Sunday.
The 39-year-old actor was admitted last week at the Hinduja Hospital, Mumbai, to remove a clot in between the brain membrane and skull. Nearly three days after his surgery, he posted a photograhph gesturing "okay" on Facebook and Twitter.
"I'm horizontal but controlling and creating my environment to the best of my ability.... That's all we ever need to do! Hope your doing d same! I'm fantastic by the way! Thanks to all your love and wishes!" he said on his Facebook wall.
"Leaving u with this thought - Everything can be taken away from you but one thing. The freedom of knowing one can choose their attitude in any given environment...Invent your OWN way! Love...supersonic style."
The "Krrish 3" actor also posted a photograph of a letter written to him by his sons - Hrehaan and Hridhaan, with the description saying: "Innocence inspires so silently and discreetly and yet all so powerfully! Missing my sons. (I'm not allowed to see them yet..)."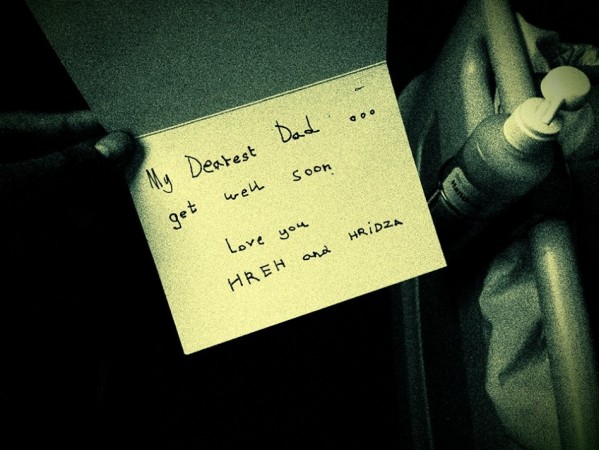 Hrithik underwent the surgery after he was diagnosed with chronic Subdural Hematoma, a serious condition caused as a result of head injury. The actor sustained an injury during the shoot of an action sequence in his upcoming film "Bang Bang" which also stars Katrina Kaif.
Following the surgery, several popular Bollywood celebrities including Shah Rukh Khan, Karan Johar, Uday Chopra and Sanjay Kapoor visited the actor at the hospital.
Hrithik, who will be discharged in a couple of days, is expected to resume the shooting of "Bang Bang" in four-weeks time. The actor will also be seen promoting his upcoming superhero venture "Krrish 3" which is set to hit screens on 4 November.