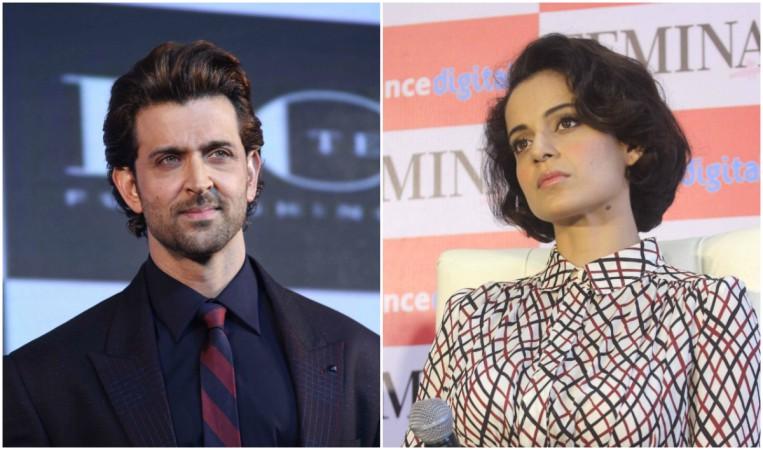 Hrithik Roshan and Kangana Ranaut's legal battle is apparently getting nastier with every passing day. With so many speculations doing the rounds regarding Hrithik-Kangana's reported affair and the ongoing court case, the actress has now hinted that Hrithik has been threatening and blackmailing her.
Kangana's words even suggested the "Mohenjo Daro" actor has been circulating her love letters and pictures. Hrithik and Kangana were reportedly in a relationship.
"In a legal matter only on record statements can be addressed not gossip. So, here's my final word: If the other party who sued me for defamation and asked for a public apology can prove defamation, I promise to apologise publicly. I request the other party to respond to the legal matter which they have started and not turn this defamation suit into a media trial and judgment, [sic]" Kangana told MissMalini.com when asked about the case.
"If they are sincerely seeking an apology then they must help me understand their perspective because blackmailing or threatening won't work with me. Though my legal team is taking strict actions against blackmailing and threatening me, but as a girl it doesn't scare me. You won't get a sorry by threatening me or circulating my love poems, letters or images, [sic]" she said.
"I am not ashamed of anything, not my past, not my affairs, not my body and most definitely not my desire. So slut-shaming won't work either. If they want an apology then they have to come to the point, beating about the bush won't help. Me and my team are eager to help as hurting sentiments isn't our intention. [sic]"
A report in CNN IBN said Kangana's lawyer has filed a complaint against Hrithik for allegedly circulating her private pictures to third parties in order to outrage her modesty.
Earlier, there were reports that Hrithik and Kangana had got engaged in Paris in January 2014 but a friend of the actor denied the buzz saying Hrithik was not even in Paris at that time. "It is easy to ascertain by looking at his passport if Hrithik was in Paris at the time he was supposed to have gotten engaged to her. His close friends and family members have been telling him to put the facts out there and clear his name. He will do it in good time," DNA had quoted a friend of Hrithik as saying.
Hrithik had sent a legal notice to Kangana after the latter referred to him as a "silly ex." He had accused the "Queen" actress had sent him at least 1,400 emails — some of them personal and absurd. On the other side, Kangana had also slapped Hrithik with a legal notice, accusing him of hacking into her email account to delete conversations that could affect his divorce proceedings with then wife Sussanne Khan.