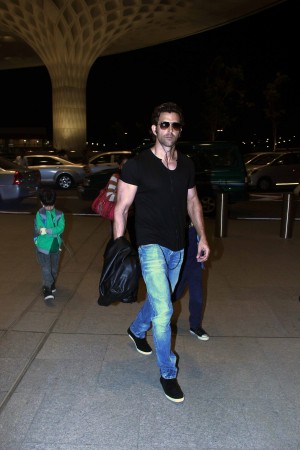 Ashutosh Gowariker is all set to turn the clock back with his upcoming film "Mohenjo-Daro," a love story set in the Indus Valley Civilisation. For this, the director will team up with Bollywood hunk Hrithik Roshan, who recently opted out of Karan Johan's "Shuddhi".
"I used to 2 hate history !But I love d way this man writes!Don't hate history,create it!!Happy 2 say 'We'r BACK!" the actor tweeted excitedly.
The "Krrish 3" star described the Indus Valley Civilisation as very centric to India, which intrigued the rest of the world, according to NDTV movies.
Gowariker and Roshan last collaborated in the epic "Jodha Akbar" with the star portraying the role of Akbar. This time around the two will go back even further in history to 2500 BC.
The director, a fan of Roshan's romantic portrayals, which he describes as passionate and pure, appeared to be very excited to have Roshan as the protagonist in the movie.
"I'm absolutely glad that we are both coming together to tell this epic romance of 'Mohenjo Daro', I'm starting it in three-four months time ," the director explained to the site.
Gowariker had narrated a part of the script to Roshan way back in 2011 and the actor is said to have been convinced about the project right then. However, he has previous commitments to take care of, due to which he had been unavailable for the role until now.
"He had a major chunk of dates allotted to Karan Johar's 'Shuddhi.' However, since he decided to opt out of it, we decided to begin work on my film," The director told Pune Mirror.
Gowarikar, well known for his fondness for history and love stories, is said to have been intrigued by the lifestyle of the Indus Valley Civilisation and found the challenge of setting this love story in the backdrop of the Indus Valley Civilisation very exciting.
Along with a love story, the director also plans to combine the discovery of Mohenjo Daro and its ancient culture. For this purpose, he has reportedly met about seven archaeologists, who have been closely associated in documenting the discovery of the Indus Valley Civilisation and have done a recce in Dholavira, an archaeological site in Gujarat. The director is likely to visit Mohenjo Daro soon, as the site is yet to be recreated and the logistics are being worked out.
Negotiations are underway with a major studio to act as producer, but as of now Gowariker appears to be producing the movie on his own.
Pre-production of "Mohenjo Daro" is underway in full swing and the film is slated to go on the floors in the last quarter of 2014.