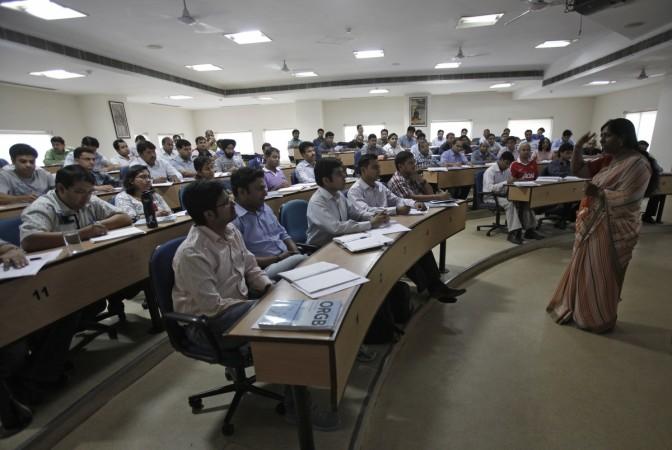 The Union Ministry of Human Resource Development (HRD) is reportedly considering a proposal linking university and college teachers' promotion to students' performance and their own teaching skills. HRD Minister Smriti Irani recently announced the government was considering a similar proposal for school teachers as well.
College and university teachers' performance are currently judged according to a scoring proforma called the Academic Performance Indicators (APIs), which take into account publications, research, teaching, co-curricular and evaluation-related activities, among others. The ministry proposal recommends adding classroom performance of teachers to the APIs. The proposal suggests a peer-review system for judging classroom performance of the faculty.
The new evaluation tool would hold academicians accountable to students, ministry officials told the Hindustan Times. "We want to have in place a transparent mechanism and want to reward teachers who are performing well. At the same time, those who are not delivering will have to mend their ways. The issue is being discussed as to what weight would be given to classroom performance," a senior ministry official told the newspaper.
In further changes to the higher education system in India, Irani announced recently women and differently-abled research scholars would be given eight years rather than the current six to complete their PhD. MPhil students, on the other hand, would get three years rather than two to graduate. More concessions would also be given to women in the form of maternity and child-care leaves while pursuing their research degrees, the Indian Express reported.
The ministry also released recently the national-level rankings of 3,500 academic institutes in the fields of engineering, management and others, determined using its National Institutional Ranking Framework. According to the framework, institutes are judged on teaching, learning and resources; research productivity, impact and intellectual property rights; graduation outcome; outreach and inclusivity; and perception. The ranking, Irani was quoted by the Press Trust of India as saying, would help students gather information about an institute before enrolling.
The ministry has been working on policy-level changes to improve higher education in the country despite receiving criticism for certain proposals such as scrapping fellowships for MPhil and PhD students who have not taken the National Eligibility Test.