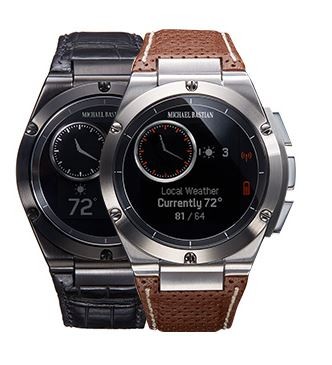 HP teamed up with designer Michael Bastian back in August, and the partnership has now resulted in giving us one of the best looking smartwatches ever made.
MB Chronowing is actually a smartwatch but looks more like a lifestyle chrono watch with a chunky dial. With a round dial and a monochrome LCD screen, it does not feature a regular touchscreen or swipe functionalities.
It works with both Android and iOS, and will keep alerting users, whenever they receive text messages, emails, stock information or any other important notifications. Unlike smartwatches, it does not feature heartrate monitors, pedometers or fitness tracking abilities. It does not even feature a microphone for voice commands.
Trying to keep the things simple, HP has preferred vibrating alerts for MB Chronowing, rather than any sound alerts.
MB Chronowing features only three buttons on the bezel; for accessing the menu, for activating light and to control music playback.
The watch comes with three different straps - leather, rubber and nylon. MB Chronowing is expected to deliver seven days of battery life with a single charge. MB Chronowing is water-resistant and has the ability to sync automatically with the user's current time zone.
Focusing more towards watch-like functionalities, with a luxurious form factor, MB Chronowing is sure to appeal to customers who feel more for a watch and less for gadget-like uses.
MB Chronowing will be available on online fashion store Glit. The watch will be available in two versions - a limited edition all-back model with a sapphire glass and alligator strap, and the regular silver-plated model with inter-changable straps.
The limited edition model is priced around Rs.40,000 approximately (649 USD), while the regular version will be available for around Rs.21500 approximately (349 USD). Both watches will be available from 7 November onwards.
Source: Glit