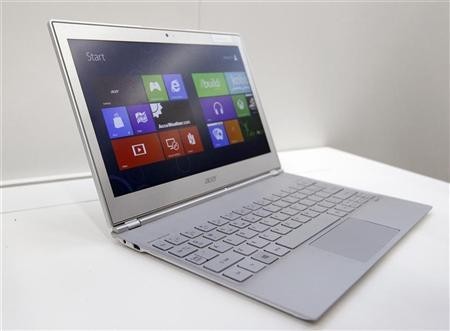 Computer manufacturer Hewlett Packard expects as much as 20 percent in net book sales volume from the Ultrabook segment by 2013 end, Press Trust of India (PTI) reported
"We expect that by the end of 2013, 15-20 per cent of our volumes will be that of Ultrabook and by 2014-end, it should be around 40 per cent. We have a strong lineup of products and across price points, which we think, would be a crucial factor," said Rajiv Srivastava, HP India Vice President and General Manager (Printing and Personal Systems Group).
Ultrabook, the thinner and the lighter version of the notebook powered by Intel processors, were anticipated to pose a bigger challenge to the popular tablet market, but its sales had reportedly fallen flat this year. High prices of the Ultrabook could be one of the reasons for the dip in purchases. The starting price of the device is around ₹40,000 and goes up to ₹1 lakh depending on the configuration.
"So far, the PC industry has failed to create the kind of buzz and excitement among consumers that is required to propel ultrabooks into the mainstream," said IHS analyst Craig Stice, according to Agence France-Presse. "This is especially a problem amid all the hype surrounding media tablets and smartphones."
An IHS iSupply report estimated that only 10.3 million Ultrabooks might be shipped as against the 22 million forecasted earlier. Despite the declined sales, HP hopes to revive the market with the launch of a new Intel processor and Microsoft's Windows 8 operating system upgrade.
"It is a very competitive market and this will only grow. The differentiator will be how technology is refreshed and what experience is provided to the end-consumer," Srivastava told PTI.