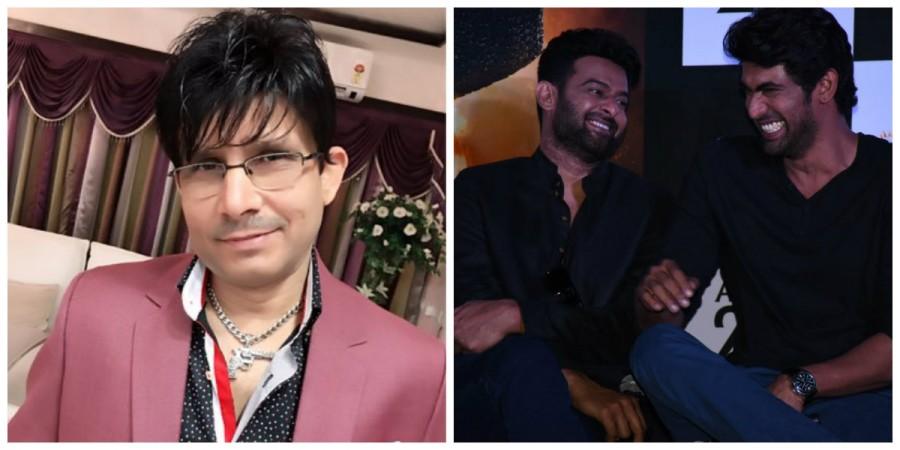 Kamaal R Khan aka KRK has recently been making headlines for insulting Prabhas, Rana Daggubati and their blockbuster movie, Baahubali 2. He called the SS Rajamouli's magnum opus "crap" and said that it is being watched just for the hype.
He was initially targeting Prabhas and the movie, but later, he dragged Rana into it as well. He called the movie crap when he replied to Ram Gopal Varma's tweet. RGV praised the Baahubali The Conclusion on Twitter, to which, KRK wrote: "Sir @RGVzoomin truth is this dat no NorthIndian girl gives f**k abut Prabhas or Duggi Batti. Ppl r just watching media hyped crap Baahubali2."
"See @Me_Prabhas has got 88 thousand n @RanaDaggubati has got 2.6 million followers means these both Lukkhas are not equal to #TheBrandKRK!" he further tweeted.
KRK, who is a self proclaimed critic, had grabbed attention on the opening day of Baahubali 2 as he revealed the mystery of "Why Katappa killed Baahubali?" However, people who have watched the movie only know whether he was telling the truth or not.
His negative review of Baahubali 2 was not a surprise to anyone as KRK has the habit of giving bad reviews to good movies. And in this case, Kamaal is on a rant making derogatory comments on the actors and the film.
Interestingly, KRK was upset when Rana blocked him on Twitter. He took the screenshot and said: "I never followed this idiot neither tweeted about him till date. Still he blocked me to prove that he is brainless."
While Prabhas and Rana have not reacted to KRK's silly remarks, Twitterati has a lot to say about it to Kamaal. Take a look at the tweets here:
@kamaalrkhan lets trend this to end the biased/ hurtful writing platform available to idiots like him...let him have zero followers#unfollowKRK

— Minimalist_leaf (@Intelligent_007) May 3, 2017
@Princy2weets haha,this guy is high wastin his time here whn they earned tripple of his followers in rupees in ONE movie ??

— R A M Y A (@ramyaofficial) May 2, 2017