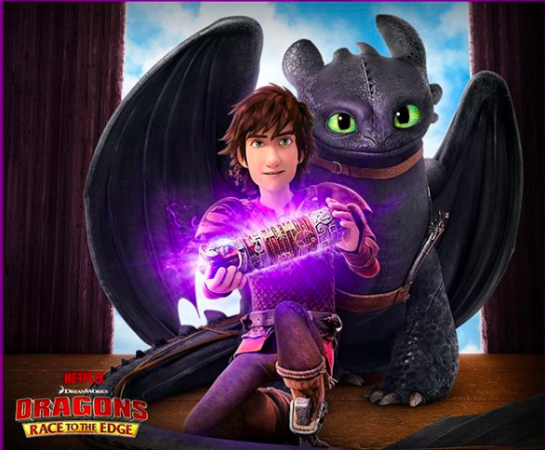 After a lot of delays and speculations, DreamWorks Animation is all set to bring How to Train Your Dragon 3 on the big screen. The upcoming animated film's trailer gave us the glimpse of the reason behind the extinction of dragons from the human world but a recent report revealed that the last film in the franchise will not only work as a closing chapter but will also have a bittersweet ending. As per the published work by Cressida Cowell, there are chances that How To Train Your Dragon 3 will show the end of Toothless and Hiccup's friendship.
The previously released two films in the series showed the adventures of a young Viking named Hiccup (voiced by Jay Baruchel), who befriends a rare dragon whom he names Toothless. The first and the second part of the film series showed their adventures and how they both tried to save the world of Vikings and the world of Dragons.
The third part of the series titled, How To Train Your Dragon: The Hidden World, will work as a closing chapter. As per the recent report from Entertainment Weekly, The Hidden World will show a bittersweet conclusion.
Franchise's director, Dean Deblois, stated that the film's ending will show why in the trailer, Hiccup talks about Dragons in the past tense.
"We thought about it for a long time and came up with what we think is a bittersweet way to say goodbye to these characters, but the right way. You will understand why Hiccup says, as you heard in the trailer, 'There were dragons when I was a boy.' And by the end of this film, you'll have answered the question [of] what could have happened to them."
In a previous interview with Collider, director Deblois talked about the part three in the series and how it will focus on Hiccup's life as a mature Viking and how he handles the day-to-day activities in Berk. The Canadian director also stated that after the events shown in the second part, both Hiccup and Toothless will become the chiefs of their respective tribes and the story will take a U-turn when they both have to choose between their friendship and the fate of their tribes.
How To Train Your Dragon: The Hidden World is scheduled to release on March 1, 2019.