Rajyavardhan Singh Rathore created history when he became the first sportsperson to head Union Sports Ministry when he took over from Vijay Goel on Sunday, September 4.
There were huge expectations on Rathore, the 2004 Athens Olympics Silver medallist, as quite a few, including members of the sports fraternity, were optimistic that the 47-year-old would be able to bring about changes to the country's sporting scene.
Rathore made his intentions clear on his very first day in office when he said sportspersons are the only VIPs and the country.
"Respect for every athlete and facilities for every player who is representing the country [The philosophy of sports ministry]. The environment and attitude in this ministry need to change. There is only one VIP and that is the sportsperson and nobody else," Rathore had said.
Rathore helps teenage prodigy
And if early signs are anything to go by, it is safe to say that Rathore is walking the talk.
Days after the country's newly-appointed Sports Minister made a surprise visit to the Sports Authority of India offices at the Jawaharlal Nehru Stadium in New Delhi to assess the facilities, he has offered a helping hand to a Delhi teenage sprinter. Nisar Ahmed has been battling poverty while setting records on the track.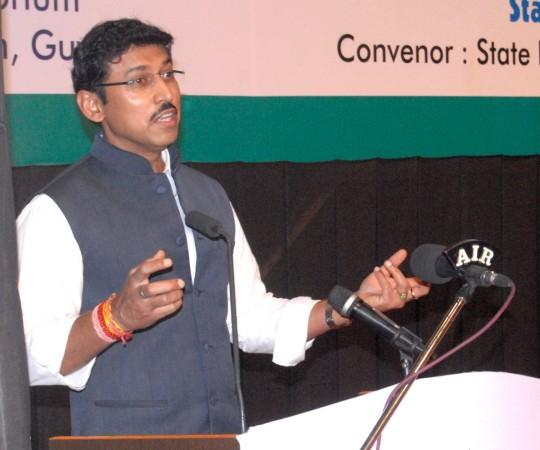 On September 3, the 15-year-old had set U-16 national records while winning gold medals in 100m and 200m at Delhi State Athletics meet. His timing in the 100m was even better than that of the winner in the senior category this year, according to Indian Express.
Nisar's father, Mohammad Haq, pedals rickshaw while his mother works as domestic help in Ashok Vihar to help their son pursue his dream.
Haq and Shafikunisha don't even watch their son's races as they can't afford to stay without work for even a day. Despite struggling to make ends meet, the couple has been trying their best to make sure Nisar gets the necessary support.
Haq reveals he had been unable to repay a sum of Rs 28,000 that he borrowed one-and-half-years ago to aid his son's training and diet. The caring father though no more needs to worry as the Sports Ministry has sprung into action to offer a helping hand.
Rathore, while maintaining that identifying talents would be the Sports Ministry's priority, revealed that the ministry has contacted Nisar and that the teenager would get the necessary assistance.
Nisar Ahmed, the sprint star,has bn contacted by @Media_SAI.He will be provided reqd support. Recognizing & nurturing talent is our priority

— Rajyavardhan Rathore (@Ra_THORe) September 8, 2017
Surprise inspection of SAI @ JLN stadium. Known faces,offices. Good not good enough when best needed. Athletes first philosophy must prevail pic.twitter.com/iM6RcQush7

— Rajyavardhan Rathore (@Ra_THORe) September 6, 2017