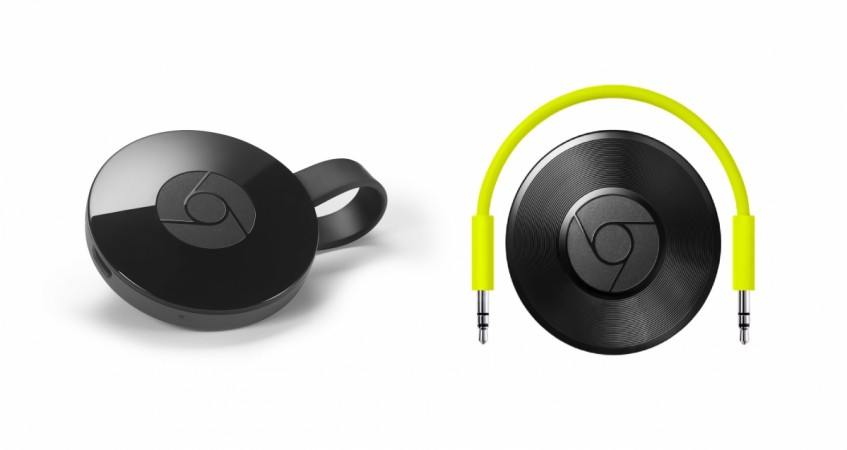 Google launched two new Chromecast dongles in India that can turn your television and speaker into content streaming devices. The new and updated Chromecast and Chromecast Audio, which were originally launched in September last year, are finally up for grabs in India. Both dongles have been priced at Rs. 3,399 each and they are available online and through offline stores.
The second generation of plug-in and play devices offer improved connectivity, thanks to the integrated antennas and dual-band 5GHz 802.11ac Wi-Fi connections. Users can stream content from Android or iOS devices directly to the television wirelessly and the Fast Play option enables one-touch-play for videos and audios.
How to connect Chromecast to TV?
Chromecast connects to a television, which has an HDMI port, and lets users stream content from Android smartphones, iOS devices, tablets, Mac, Windows laptops and Chromebooks directly to the TV. The users can cast TV shows, movies, music, sports and games from the mobile device, which can be used as a remote controller, on the television. It supports a wide range of apps, including Netflix, YouTube, ditto and Wink Music, available on both Android and iOS app stores.
How to connect Chromecast Audio to speakers?
Chromecast Audio, as the name suggests, is meant for speakers and allows users to stream music from Android smartphones, tablets, iPhones, iPads, Windows laptops or Macs. It plugs into the 3.5mm port of the speaker, but it also supports RCA and Optical ports if the users have the compatible cables.
The Chromecast devices work through an app interface. The app can be downloaded from App Store for iOS devices and Google Play Store for Android smartphones.
Chromecast and Chromecast Audio can be purchased from Flipkart, Snapdeal and Paytm online or they can be bought from Reliance Digital and Croma for offline purchase. Both dongles are listed on Google's official online website, which redirect buyers to aforementioned sources to complete the purchase.
Google is also throwing in some goodies for those who purchase the new Chromecast or Chromecast Audio in the form of free six month subscriptions for Saavn Pro (Rs. 99 per month) and Hooq (Rs. 249 per month). The free subscriptions must be redeemed before May 31, 2016.