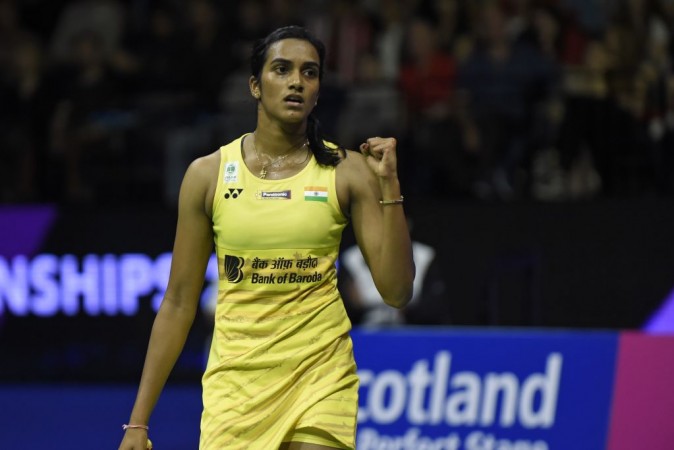 Bronze medallist Saina Nehwal revealed she was as tensed as the rest of India when PV Sindhu was battling for glory in the gold medal match of BWF World Championships 2017 in Glasgow against Nozomi Okuhara of Japan on Sunday, August 27.
Watched on by coaches Pullela Gopichand and Mulyo Handoyo, Sindhu gave it her all in the 110-minute-long marathon, but finished second best by a whisker. The 22-year-old won her third World Championships medal, a Silver after losing to Okuhara 19-21, 22-20, 20-22.
Sindhu and Okuhara matched each other with each and every shot and towards the end of the battle, both of them hardly had any legs to move. Minute-long breaks were taken between the points as the crowd at the pack house in Glasgow was at the edge of its seats.
The Rio Olympic Silver medallist had to play exceptionally well, with Dhoni-esque reflexes, to force a decider. In the pulsating and topsy-turvy final game, Sindhu had the championship point, but Okuhara, with her superior net play, broke the hearts of millions, who were rooting for the Indian shuttler.
"Mera petrol khatam ho gaya dekhte, dekhte [I ran out of fuel, just watching this game] Wonderful match!," Saina, who walked up to her former coach Gopichand, said, as quoted by the Indian Express.
Gopichand, who was constantly making sure Sindhu remained calm during the big night, came up with an uncharacteristic cheeky reply: "It had to end someplace. It couldn't go on."
'Happy with Silver, but...'
Sindhu looked gutted as she had come so close to finishing on the top step of the podium. However, the Indian shuttler, who has moved to the fourth spot in the latest BWF rankings, revealed she was happy with the colour of the medal and that she is hungry for more.
"I have no words. It's been really upsetting because anybody would aim for the gold, and that last moment just changed everything. I'm happy with silver, but that feeling is always there," Sindhu said on Sunday.
She added: "It's been good overall. A World Championships final, to settle for silver ... it's a good feeling and with this confidence I would go much more forward and learn a lot more and come back much stronger."
Sindhu also had a word of praise for her senior compatriot, who finished with a Bronze. Notably, this is the first time India returned home with two medals from a world meet.
"We as Indians are really proud because we've brought two medals for the country in the women's singles. Of course, Saina did really well too. I will settle for silver, am really proud," Sindhu added.