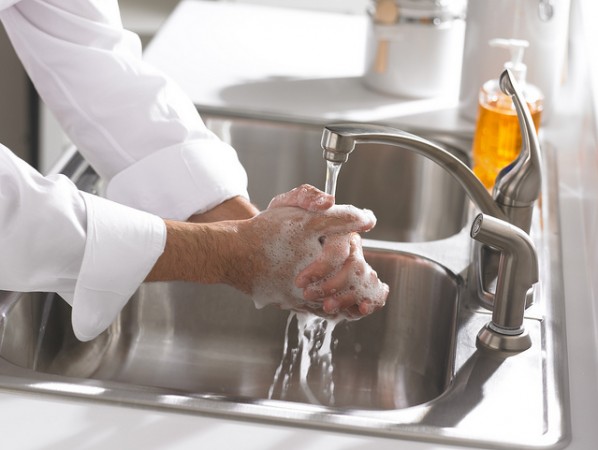 An antibacterial agent commonly used in household products can cause cancer and damage the liver, researchers warn.
In a study reported in the journal Proceedings of the National Academy of Sciences, prolonged exposure to triclosan led to the development of liver fibrosis and cancer in laboratory mice.
"Triclosan's increasing detection in environmental samples and its increasingly broad use in consumer products may overcome its moderate benefit and present a very real risk of liver toxicity for people, as it does in mice, particularly when combined with other compounds with similar action," professor Robert H. Tukey, from the University of California, San Diego School of Medicine, said in a news release.
During the study, Tukey and his research team, exposed rodents to triclosan for six months, which is almost equal to 18 years in human life.
Results showed that long-term exposure to the chemical interfered with the proper functioning of liver and also disturbed its integrity. A closer examination showed that the chemical left a negative impact on the constitutive androstane receptor, a protein that helps remove foreign chemicals from the body. As a response to this action, the liver cells multiplied and turned fibrotic, which eventually led to the development of tumour.
Researchers, while explaining the hidden risk associated with the chemical, mentioned some previous research that detected triclosan in 97 percent of breast milk samples and 75 percent of the urine tested in US. They added that, apart from the consumer products, the chemical is widely present in most of the streams that flow across the United States.
"We could reduce most human and environmental exposures by eliminating uses of triclosan that are high volume, but of low benefit, such as inclusion in liquid hand soaps," Professor Bruce D. Hammock, who led the study with Tukey, said. "Yet we could also, for now, retain uses shown to have health value — as in toothpaste, where the amount used is small."
Triclosan -- Where you can find it?
Triclosan is used in a majority of the products sold in the markets including toys, clothing (socks, bottoms, undergarments, tops), kitchenware, school products (pencils, calculator, scissors)furniture, soaps -- liquid hand soap, body washes, skin wipes -- deodorants, first aid products, mouthwash, toothpastes and cosmetics (powder foundation, lip colour, moisturizing creams and lotions).
Click here to find out the exact brands that use the chemical.
Recently, Colgate Total was under criticism after an investigation conducted by Bloomberg.com found that the popular toothpaste brand uses triclosan to manufacture its toothpaste. The investigators said that exposure to even small amount of the chemical -- "pea-sized"-- can lead to adverse health outcomes.
Colgate Total has been widely used in the US since July 1997, when the FDA approved it for fighting cavities, plaque and gingivitis.
The report found that triclosan was an endocrine disruptor that can lead to poor birth outcomes (foetal malformation, low birth weight, premature birth), infertility and impaired muscle function.
However, according to the FDA, hidden risk associated with triclosan is not fully known and needs "further review."
"Triclosan is not currently known to be hazardous to humans. But several scientific studies have come out since the last time FDA reviewed this ingredient that merit further review," a statement appeared on the FDA website read.
However, according to health experts at Mayo Clinic, exposure to the chemical can lead to the creation of antibiotic-resistant germs, damage immune system and cause hormonal changes.