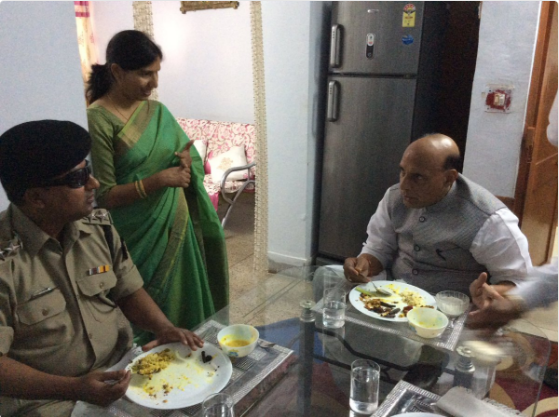 Union Home Minister Rajnath Singh visited a BSF Assistant Commandant named Sandeep Mishra on Saturday (March 25) to honour him for his contribution and sacrifice for the nation. Mishra had lost both his eyes during an operation in 2000.
His wife Indrakshi Tripathi married Mishra regardless of the disability and they have been together for 12 years now. Moved by the story, Singh visited the family while he was at the BSF Academy in Tekanpur in Madhya Pradesh. The daughter of a lawyer, Indrakshi, belongs to Bansi in Sidharthnagar district of Uttar Pradesh.
She had seen a matrimonial ad in 2004 given by Mishra's family and decided that she would marry him. She thought if this man could do so much for his country, why couldn't she marry him. She told her father that she would marry only Mishra.
Mishra, 43, had received five bullet injuries with one bullet piercing his left eye and exiting from the right when his patrol team was ambushed by Ulfa militants in Assam's Tinsukia. He was also honoured with President's Police Medal for Gallantry.
Now, he is a member of the computer faculty at Swayam, the BSF rehabilitation centre in Tekanpur. He uses a screen reader software to teach them.
Mishra said Singh's visit was an "honour" and a "great gesture".
"Met the family of visually challenged BSF Assistant Commandant Sandeep Mishra who lost his eyesight during an ambush in 2000. It is their love for the country which binds Sandeep and Indrakshi together. It was a delight to have lunch at their home in Tekanpur," Singh tweeted.
It is their love for the country which binds Sandip and Indrakshi together. It was a delight to have Lunch at their house in Tekanpur. pic.twitter.com/YAgxidKcqo

— Rajnath Singh (@rajnathsingh) March 25, 2017